2020 Election Made History
Women's voices are clear and united: we want solutions that address our economic, health, safety, and racial justice concerns. For over 160 years, we have been at the forefront of the most critical social movements advocating for women, girls, and people of color — from women's empowerment and civil rights, to affordable housing and pay equity, to violence prevention and health care. And particularly in this election year, civic engagement.
YWCA celebrates a record breaking year for women in politics. From Kamala Harris, the first Black, Indian-American women Vice President-elect to New Mexico's congressional delegation made up of entirely women of color to GOP women growing to 24 in the House to Sarah McBride becoming the highest-ranking openly transgender official in the nation and Cori Bush becoming the first Black women to represent Missouri in Congress to so many more.
We have worked for women's empowerment for 108 years and know that women's leadership can change history. These firsts truly matter. When Helen Claytor became the first African American president of YWCA USA in 1967, she led change for our organization. It's no surprise that in 1970 we adopted the One Imperative to eliminate racism wherever it exists and by any means necessary – work that continues today at the center of our mission.
In this moment of transition from election to governing, YWCA remains mission-focused on addressing the issues that impact the more than two million women, girls, and their families we serve every day. We stand ready to work the Arizona Congressional delegation to increase federal support for nonprofit programs and services, improve economic security for women, prevent gender-based violence and support survivors, ensure access to health care for women, girls, and marginalized people, protect immigrants, and to eliminate policies and practices that criminalize people of color. And when necessary, we will work fervently to oppose policies and halt legislation that would harm or oppress women, girls, and communities of color. Ensuring they are represented, and their voices are heard, is our main priority.
While the results of this election may come as a surprise to many, an affirmation to some, and a rejection to others, they are also a defining moment for YWCA and the nation. We encourage all in our community to continue to stand with us as we work tirelessly to be champions for equality, to end gender discrimination, and to combat injustices across economic, political, and daily life that pose barriers for so many.
At YWCA, we demand a world of equity and human decency. We envision a world of opportunity. We commit ourselves to the work of social and racial justice. We will get up and continue to do the work until injustice is rooted out, until institutions are transformed, and until justice, just is.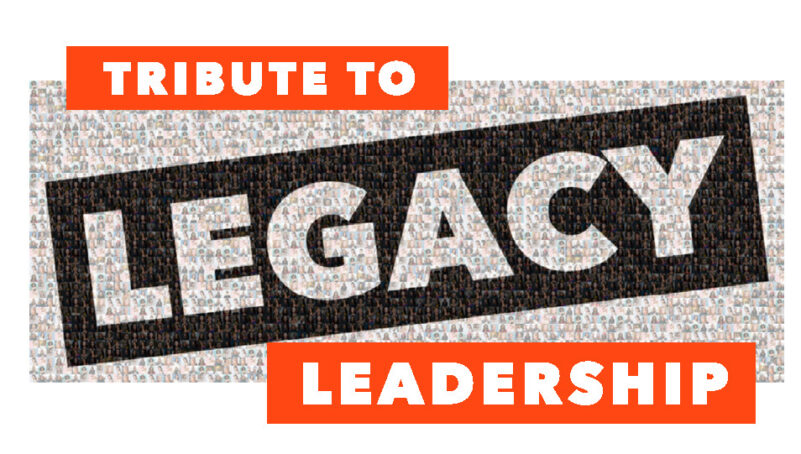 Save the Date!
27th Annual Tribute to Leadership is March 2021
We are very excited to announce our upcoming Tribute to Leadership is celebrating our 26 years of Legacy Leadership!
Since 1994, YWCA Metropolitan Phoenix has hosted our Tribute to Leadership Luncheon and Awards Program to recognize and celebrate the accomplishments of leaders in our community who strive to improve the lives of women, girls, and people of color through leadership, advocacy, and community service. Every year hundreds join us in celebrating our honorees who have given selflessly of their time and talent to make our community, and the world, a stronger and better place to live and work.
We have re-imagined this year's event as a virtual month-long celebration to reflect on 26 years of phenomenal Legacy Honorees. This celebration will culminate with a virtual luncheon on March 31st, to come together to celebrate their continued legacy of leadership and commitment to racial and gender justice, and to raise funds that are critical for us to stay resilient and stay strong for those we serve.
As an added bonus, March is Women's History Month, and we can think of no better way to celebrate women's history than by shining the spotlight on these amazing honorees, their stories, and the leadership and dedication they have demonstrated to our mission!
Our month-long celebration will culminate with a free community virtual lunch on Wednesday, March 31, 2021 from 12:00 – 1:30PM. Gather with your closest friends, order in your lunch meals, and tune in for inspiring stories!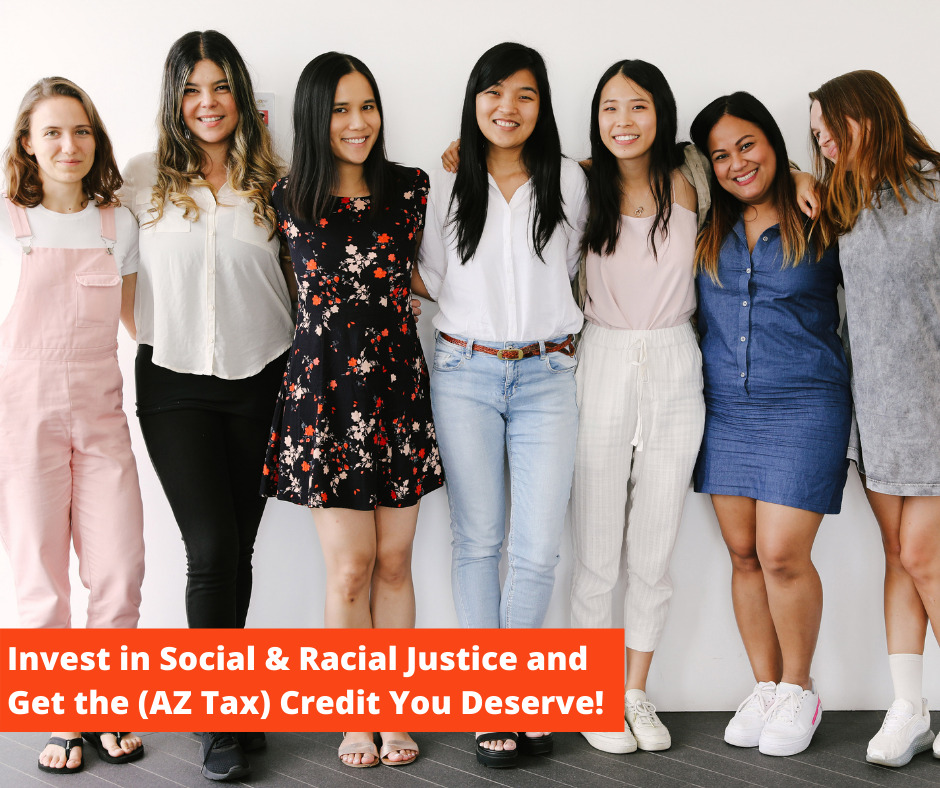 AZ Qualifying Charitable Tax Credit is Back
In our Prosperity Programs, participants learn how to have their money work for them and their goals. If our participants were working with their coach to decide on making a Qualifying Charitable Tax Credit donation, they would conclude it's a win-win!
Qualifying Charitable Tax Credit donations allow individuals and couples to make donations directly to a qualifying nonprofit and then receive a dollar-for-dollar tax credit on their AZ state taxes!
Your gift of:
$200 hosts a book club discussion to raise awareness of inequality and injustice.
$400 provides 30 days of delicious, hot meals, and (virtual) connection to 2 seniors.
$800 provides wage negotiation workshops for 40 women, giving them the tools to advocate for equal pay and close the gender pay gap.
Qualifying for the Arizona Tax Credit is as easy as 1, 2, 3!
Make a qualifying contribution to YWCA Metropolitan Phoenix. All donations up to $400 (for individuals) and $800 (for couples) may qualify for a dollar for dollar tax credit!
Fill out your AZ state taxes using our Qualifying Charity Organization (QCO) Code 20302. A donation to YWCA doesn't preclude you from donating to the school, foster care, and other tax credit programs.
Pat yourself on the back for supporting racial justice and gender equity in Maricopa County!
This is not professional tax or legal advice. For more info on the tax credit visit the AZ Dept of Revenue website. Arizona YWCA Metropolitan Phoenix is a 501C3 not-for-profit and a Qualifying Charitable Organization. Tax ID# 86-0098936. QCO Code: 20302.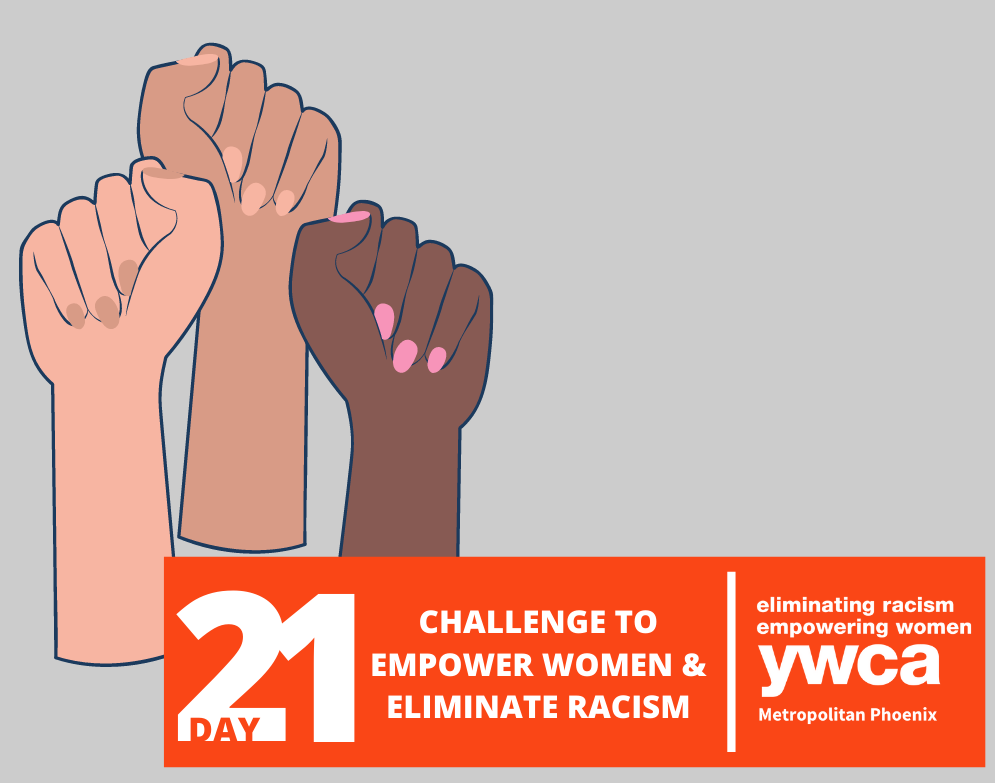 21-Day Challenge to Empower Women & Eliminate Racism
Thank you to everyone who participated in our most recent 21-Day Challenge! We hope that you found the challenge enlightening, engaging, and maybe even a little bit exasperating (perhaps at how much there is still to do).
We are diligently working on our next Challenge that we are excited to bring to the community in early 2021. If you missed any day of our Challenge or missed the Challenge entirely and would like to participate now, all days are archived here. We acknowledge that our anti-racist journeys are both personal and confronting, and we sincerely thank you for allowing us to be on your journey with you.
If you participated in this last Challenge and have yet to fill out our post-Challenge survey, you can find it here.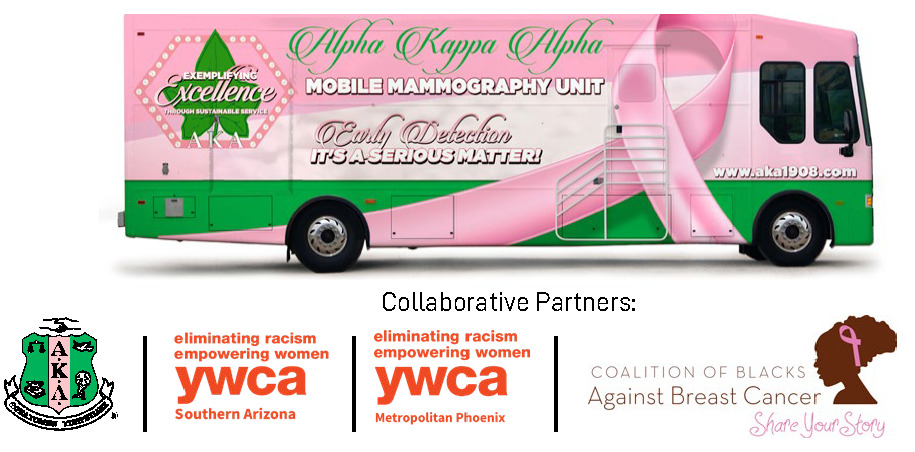 On the Road Again! – Mobile Mammograms Support Women's Access to Healthcare
In recognition of Breast Cancer Awareness month, YWCA Metropolitan Phoenix participated as a collaborative partner with Arizona Complete Health and Alpha Kappa Sorority, Inc. for On the Road Again! which provided free mammograms for uninsured and underserved communities. Events were held at the Nogales Mexican Consulate, Pilgrim Rest Baptist church in Phoenix, and YWCA Southern Arizona. Other services included free flu shots and diabetes, cholesterol, and BMI screenings. Attendees also received masks, hand sanitizers, first aid kits, and hot/cold packs.
We were proud to join our partners to raise awareness, educate, and promote the importance of self-exams and annual mammograms for women's health. According to our community partner, and YWCA Board Member, Tina Brown, "Early detection is key to saving lives."
We were honored to join our partners in providing 206 mammograms, 94 diabetes screenings, and 75 flu shots. Together, we made a difference in the lives of others and our community.
Winter Social Justice Book Club
Our next book club book is Everyday White People Confront Racial and Social Injustice. Edited by Dr. Eddie Moore (the creator of the original 21-Day Challenge), this book contains 15 shorts stories. Every 3 weeks, we will pick a story to discuss and learn from, continuing our anti-racism work.
This book vividly presents – in their own words – the personal stories, experiences and reflections of fifteen prominent white anti-racists. They recount the circumstances that led them to undertake this work, describe key moments and insights along their journeys, and frankly admit their continuing lapses and mistakes. They make it clear that confronting oppression (including their own prejudices) – whether about race, sexual orientation, ability, or other differences – is a lifelong process of learning.
Register today to be the first to know which essay we're reading next and let's learn how to confront oppression together.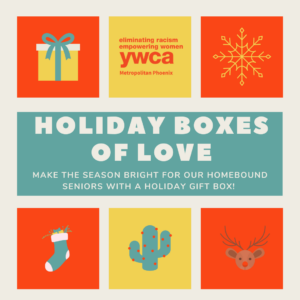 Holiday Boxes of Love
For more than 109 years, YWCA programs and services have helped our community's most vulnerable populations. Our Senior Center programs, in particular, support empowerment and dignity for our seniors through much more than a meal. Our programs provide a lifeline allowing our senior to age in place.
Our annual Holiday Boxes of Love brings joy and cheer to our seniors each December. Please consider joining us by donating items or hosting a Holiday Drive! All we ask is that all donated items be new, unwrapped, and delivered to us by December 4, 2020.
This year we have made it easy to give with a holiday wish list from Amazon or Sponsor a Senior and make a donation.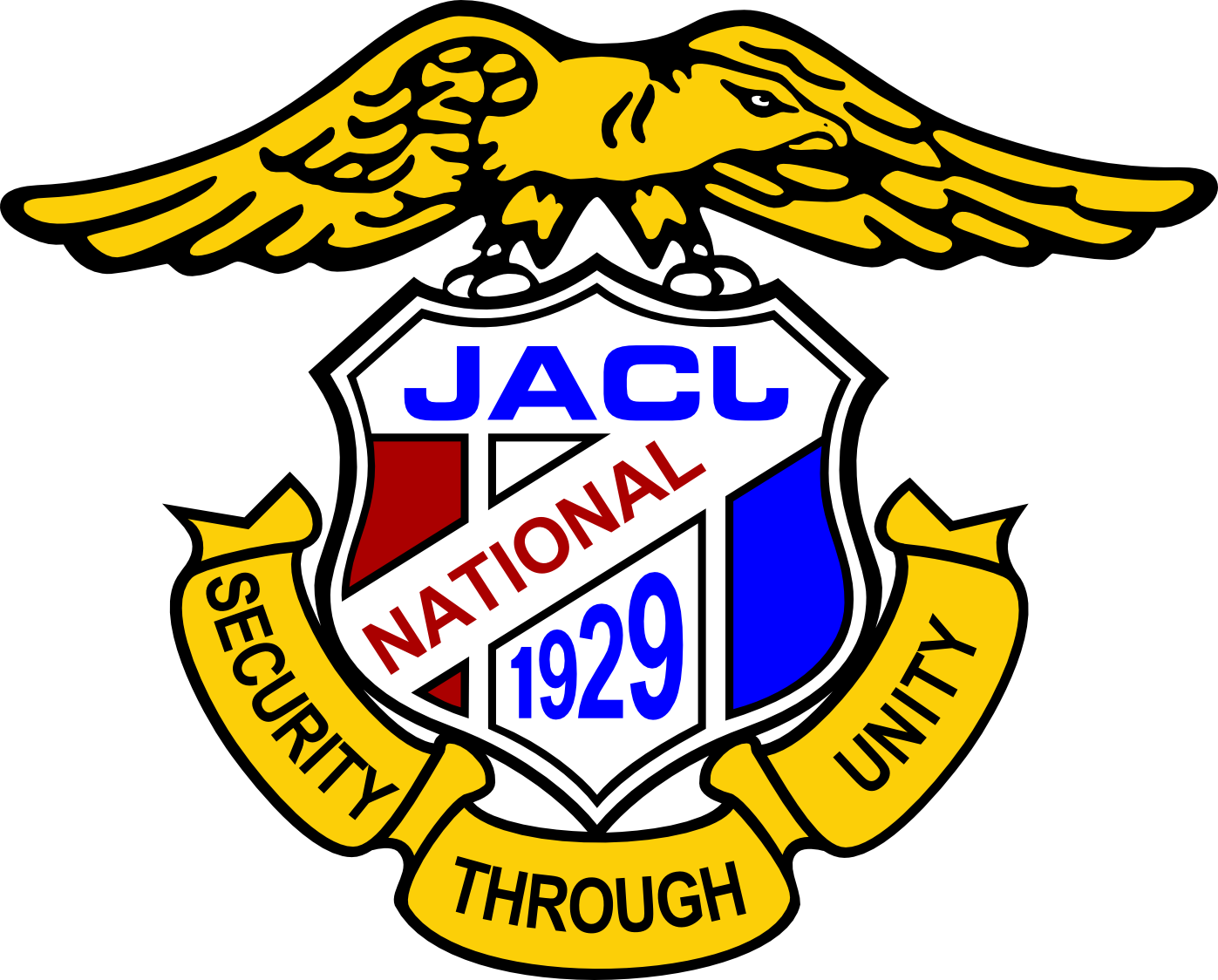 Partner Spotlight
We are honored to spotlight and uplift our friends at the Arizona chapter of the Japanese American Citizens League. Arizona JACL is proud to continue the tradition of community, culture, and civil rights of the Japanese who first settled in Arizona and pursued the American promise. The mission and work of JACL is to preserve the legacy of Japanese Americans in the United States and to protect the rights of all Americans.









Monthly Giving
Help build a sustainable movement by joining our Impact Circle and providing dignity, freedom, peace, and justice for all…all year long!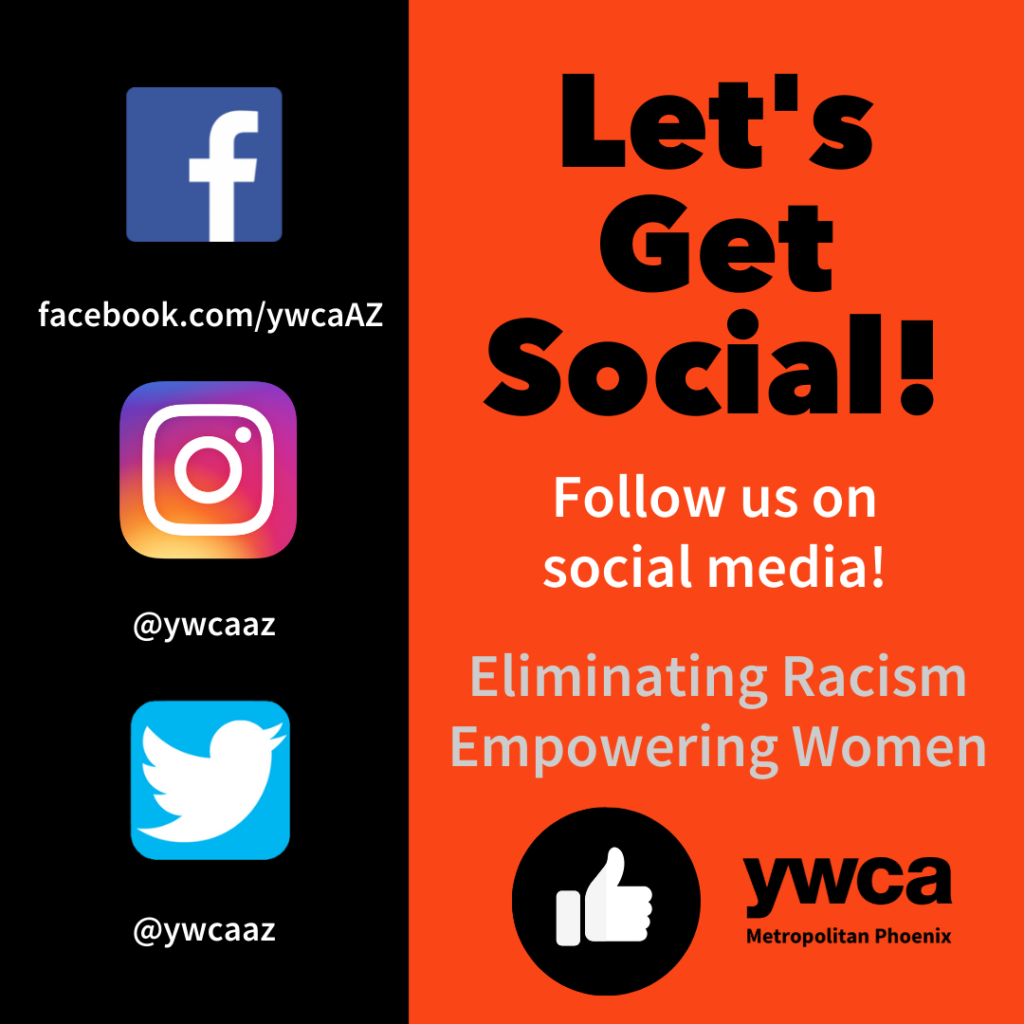 Are You on Social Media? If so, Let's Be Friends!
We are looking to grow our following and would love your help in just 2 simple steps!
Please like, share, and follow our handles on social media, and
(for bonus points!) share the graphic above on your social media platforms and encourage others to join in our fight to eliminate racism and empower women.