Prosperity Programs
YWCA Metropolitan Phoenix seeks to advance its mission through community collaborations focused on creating positive systemic change, addressing financial equality for women and families. We are committed to providing programs and services that equip women of all ages with the tools they need to impact their lives, their families lives, and the lives of women around them for the better.
What is Prosperity?
Prosperity is the state of flourishing, success, or good fortune. For the last 15 years, YWCA Metropolitan Phoenix has viewed this state of Prosperity as strictly financial, but we have begun to see the need for more within our community.
Many folks are unable to focus on their finances because they are not stable in other areas of their lives such as their emotional, spiritual, mental, and physical wellbeing. We want to address the whole person so each individual may be prosperous in all aspects of their life.
Through 2023, we will be developing programming that will help us to holistically prosper, including learning sessions in:
These programs will provide the tools for individuals to be confident in themselves and ready to plan for a prosperous future. Learn more below!
Economic Empowerment
We work with partner organizations throughout the Valley to provide classes to their participants and meet them where they are at. Many of the individuals we teach are in vulnerable situations, almost always transitioning out of a traumatic situation such as incarceration, a health crisis, homelessness, or domestic violence, so we make sure to teach with empathy, relevance, and respect to their situations. Our classes are taught by a rock-star group of volunteers who all come from various financial backgrounds.
Classes We Offer
In both English and Spanish.
Banking Basics
Budgeting
Credit
Debt
Homeownership
Goals
Insurance 101
Know Your Worth: Wage Negotiation
Renting 101
Resume Building
Savings
Vision Boards and Goals
Public Classes
We imagine an equitable and inclusive society where women, people of color, and especially women of color can thrive; therefore, our Economic Empowerment courses are free for the public. Upcoming classes offered to the public will be listed here or on our events calendar.
Sign up for our newsletter to know when the classes are!
Financial Empowerment Series
Our latest series begins October 26th and will cover Banking Basics, Budgeting, Saving, Debt, and Renting 101. Register today to participate in this series, offered via Zoom.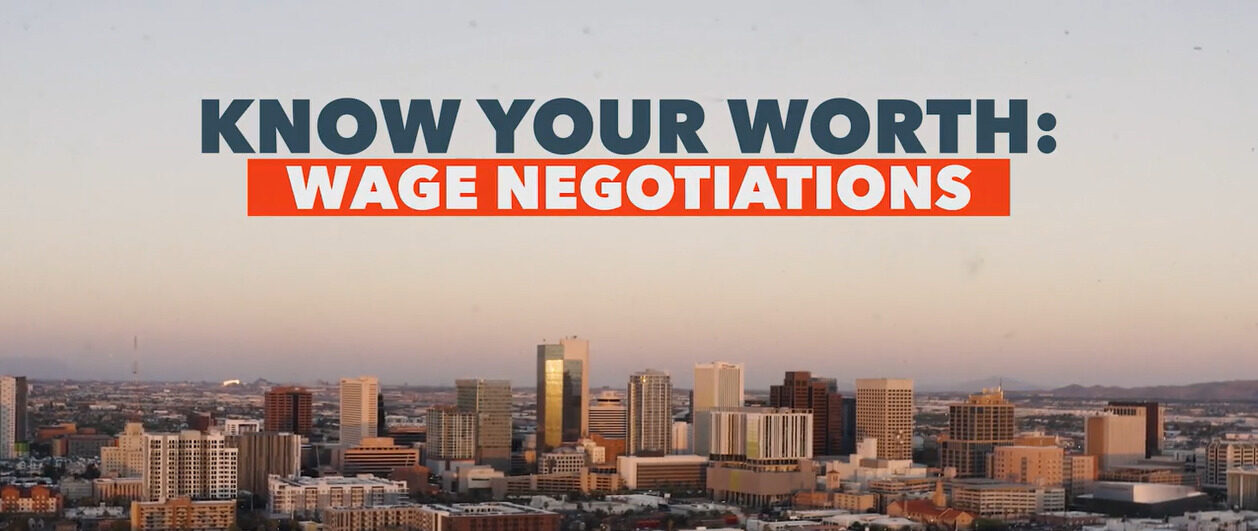 Coffee Chat: Know Your Worth
Thanks to our unstoppable Prosperity volunteers–experts in the financial industry–we now have a video with relatable, useful, and empowering material you can carry with you throughout your career to advocate for your worth.
WellBeing
Wellness is the the active pursuit of activities, choices and lifestyles that lead to a state of holistic health. In achieving a state of holistic wellbeing, we must take individual responsibility for our own wellness– be it physical, mental, emotional, spiritual, or social–but we're here to achieve it together. We will be offering various experiences in partnership with local organizations and providers to increase mind-body-soul health.
Upcoming opportunities will be listed here or on our events calendar.
Sign up for our newsletter to stay in the know!
Mental Wellness with Healthy Synergy, LLC
Our first mental wellbeing collaboration is with Arizona-based and woman-owned counseling and coaching firm, Healthy Synergy, LLC. This five-course series will equip you with the tools to be mindful and protect your emotional peace.
Civic & community connection
Strong, cohesive communities are built on trust, understanding, and justice. We can achieve shared wellbeing when we are actively engaged within our communities by voting, staying informed about legislative updates, understanding media bias and disinformation, and / or volunteering in our governments and nonprofits.
When we stay informed and engaged, we make decisions and take actions that benefit our entire community. When our community is cared for, we in turn are also cared for, adding to our holistic prosperity.
More information coming soon! Sign up for our newsletter to stay up to date.
Our Partners
Are you interested in classes for your organization? Email learn@ywcaaz.org to learn more!
There are many ways to get involved at YWCA Metropolitan Phoenix
Your voice matters as we stand up for social justice, help families and strengthen communities. Whether you have time, talents, or treasures to contribute, learn how you can plug in to the YWCA community.