DETAILS:
3-5 hours per month for 9 months (September 2023 – May 2024).
Miss no more than 3 cohort connections.
Meets in-person.
Interested in the next cohort?
Submit a Leaders for Change interest form.
EMPOWERED BY
Get Connected. Create Change. Rise Up.
Representation Matters. At YWCA Metropolitan Phoenix, we recognize the need in Arizona for more leaders who lead through a lens of race and gender to strive towards equity and justice. This leadership program empowers young professionals to grow and better understand the power in their own authentic leadership.
Program Themes:
Community Organizing
Board Leadership
Creative Self Development
Civic Engagement
Fundraising
Networking
Building an Inclusive Workplace
Through this 9-month learning experience, emerging leaders will engage in workshops, leadership opportunities, and community projects helping them understand how discriminatory practices, policies, and beliefs produce various forms of inequity. Participating young leaders will leave with the tools, language, and knowledge to recognize and challenge systemically racist practice, and have confidence in their ability to speak up and create meaningful change.
Participants will gain:
Each participant will experience the benefits of what they put into the program. In addition to the monthly cohort connections, there will be optional opportunities to enhance skills, connections, and knowledge.
Leadership skills to drive change in their communities
Resources and knowledge that will help continue personal and professional growth through the lens of racial and gender justice
Practical knowledge and approaches to social change
Information about how to run a non-profit or business, including event and project management, strategic planning, community outreach, and fundraising
Confidence to stand up against systemic racism and advocate for justice
Access to networking and meaningful relationship-building opportunities with YWCA
FAQ's
Application
The ideal applicant is…
an emerging leader in their 20's or early 30's at the beginning of their career and leadership journey.
someone who has a desire to be involved in the Phoenix community through professional and community service and wants to effect positive social change.
has little to no formal leadership development training in academic, community, or work settings.
has a passion for social change that aligns with YWCA's mission of eliminating racism and empowering women.
We welcome cisgender women, transgender women, and non-binary individuals who experience gender-based oppression and are comfortable participating in a women's program to apply.
By sharing your personal demographic information, you help YWCA to tailor and customize its programming, therefore fueling the movement to eliminate racism and empower women. Thank you for trusting YWCA as a partner and champion in this work.
In carrying out its mission, YWCA Metropolitan Phoenix develops prosperity courses, community gatherings, racial justice learning circles, and public events that support you, and others across the Valley, in becoming the informed and engaged citizens and/or social justice advocates you want to be.
Program Cost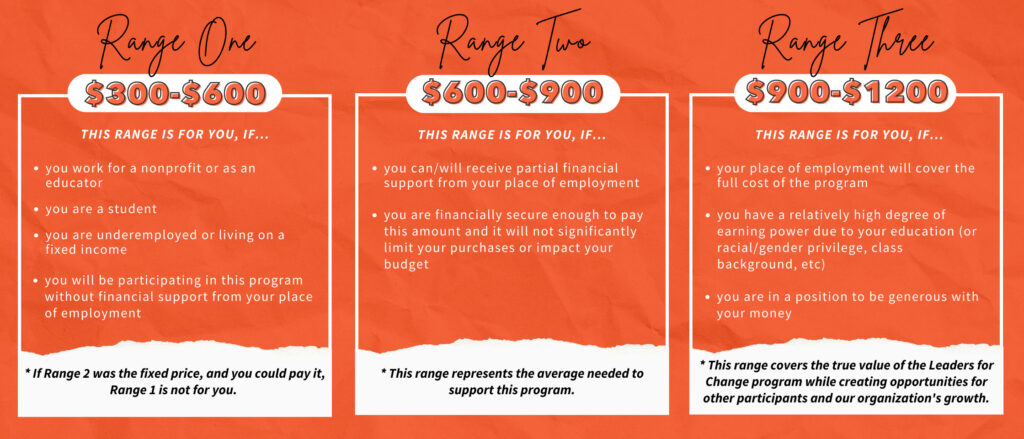 Equitable and Inclusive Pricing
Equitable pricing is designed to create greater access for all. At YWCA Metropolitan Phoenix, we never want personal finances to create a barrier to participation in our programs, which is why we continue to offer sliding scale pricing.
Our intention remains to create a valuable, viable, and sustainable program while also limiting the financial barriers to entry.
Sliding Scale Price Ranges from $300-$1200.
Read the statements for each price range to help you determine which pricing would be most equitable for your personal situation. Payment will be accepted when program begins. We offer payment plans and other solutions.
Range 1: $300-$600

I work for a nonprofit or I am an educator or I am a student.
I will be participating in this program without financial support from my place of employment.
I can afford to pay this amount, however, it will cause me to weigh between this and other discretionary spending (concerts, hobby related expenses, traveling etc.)
*Note, if Range 2 was the fixed price, and you could pay it, Range 1 is not for you. If Range 1 is still creating a barrier for you, we encourage you to speak to your employer about financial investment in this program. We can provide you with language for how to speak to your employer.

Range 2: $600-$900

I can/will receive partial financial support from my place of employment.
I am financially secure enough to pay this amount. It does not significantly limit my purchases or impact my budget.
*Please note, this range represents the average needed to support this program.

Range 3: $900-$1200

My place of employment will cover the full cost for me to be in the program.
I have a relatively high degree of earning power due to my level of education (or gender/racial privilege, class background, etc).
I am in a position to be generous with my money.
*Note that this range covers the true value of YWCA's Leaders for Change Program while creating opportunities for other participants and our organization's sustainability and growth.
Alumni, Share Your Spotlight
In all professional roles and career stages, Leaders For Change Alum are change-makers, leaders, and innovators. They are passionate about social change and lifting each other up. It is important that we acknowledge and celebrate each other during and after completing a cohort! Have you or a fellow L4C alum accomplished something spotlight worthy (i.e. joined a Board, landed a new leadership position, been recognized for your contributions, etc.)? Please share! And yes! Please feel confident to highlight yourself!
There are many ways to get involved at YWCA Metropolitan Phoenix
Your voice matters as we stand up for social justice, help families and strengthen communities. Whether you have time, talents, or treasures to contribute, learn how you can plug in to the YWCA community.