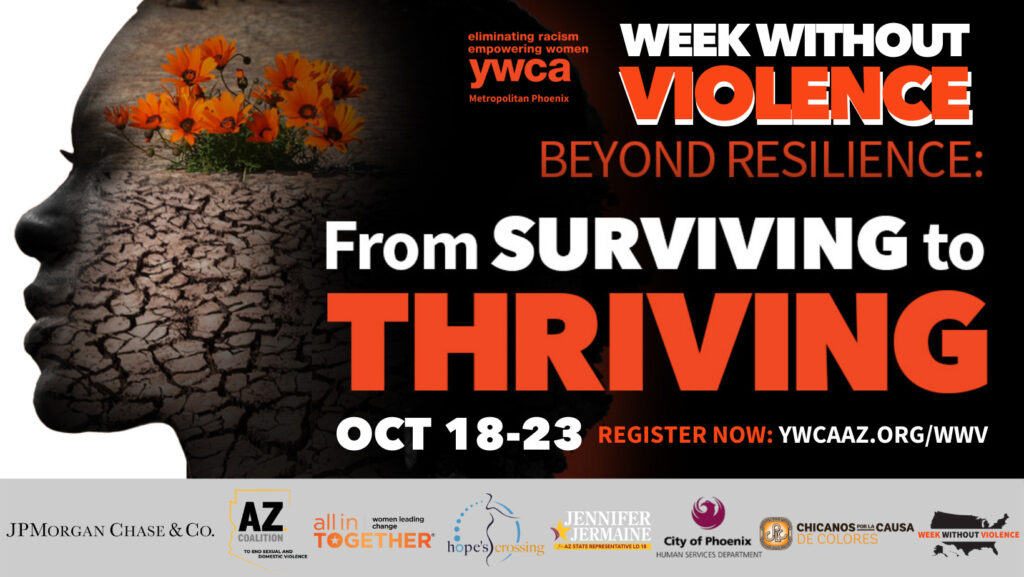 JOIN US FOR A WEEK WITHOUT VIOLENCE
For more than 20 years, YWCA has set aside one week in October as a Week Without Violence—a week when YWCAs join as part of a global movement with World YWCA to end violence against women and girls.
Join us during our annual Week Without Violence as we do the work to raise awareness and advocate for the accessible, effective, and consistent resources that survivors and communities need to build the flourishing futures they deserve. We will be joined by various activists throughout the week to learn how to advocate for survivors, the resources they have in Phoenix, and how to create real change to end gender-based violence.
SCHEDULE OF EVENTS
MONDAY, OCTOBER 18
For Survivors.

10:30am – INSTAGRAM LIVE WITH LAURA BULLUCK
CEO of Hope's Crossing, Laura Bulluck, will join our staff to discuss the work that Hope's Crossing champions for DV survivors in Phoenix.

12:00pm – WEBINAR WITH GUADALUPE GONZALEZ
Guadalupe Gonzalez will discuss safer voter registration practices for survivors of DV.
WEDNESDAY, OCTOBER 20
For Advocates.

10:00am – WEBINAR WITH REPRESENTATIVE JENNIFER JERMAINE
Representative Jennifer Jermaine will discuss her role with the investigative committee for Missing and Murdered Indigenous Women and Girls. Then, survivors will educate us on what they want advocates to know.
FRIDAY, OCTOBER 22
For Policy Makers.

10:00am – WEBINAR WITH KATIE OSSELAER
City of Phoenix will be hosting a conversation with Katie Osselaer, Victim Services Program Supervisor with the Family Advocacy Center for the City of Phoenix, to discuss their services across the city.

TAKE ACTION
In partnership and community, call on local and state elected officials to sign the Week Without Violence Pledge to engage in ending gender-based violence.
Monday, Safer Voting Practices
Wednesday, Stories from Survivors & Representative Jermaine
Friday, City of Phoenix Family Advocacy Center