Honored…humbled…excited…these are the words that come to mind as I step into the Board Chair position for YWCA of Metropolitan Phoenix. Our journey the past few years has been one of evolving growth as we navigate changes in our society, personally and as an organization.
Regardless of what is happening, what gives me confidence and optimism about the future of our YW is all of the individuals that commit their time to us—staff, Board members, volunteers and community partners.
Each one of you continues to rise to new opportunities with thoughtful wisdom and enthusiasm, while keeping our mission top of mind. Your commitment and perseverance makes a positive difference, and I know the work we do will make our communities and us better and stronger for the future.
As we move forward, I offer the following principals we will continue to demonstrate:
Doing the right thing in the face of adversity is always the right choice. The past few years have been a great reminder to all of us that doing the right thing may seem obvious to some and not so much to others. We will continue to champion the humanitarian aspect of each situation we encounter.
Perseverance and patience are key along the path to success. As we move forward, a focused plan will help us build strength and drive momentum. We will work together with integrity and support our community partners as we move purposefully towards a new and exciting chapter for our YWCA.
It takes courage to be a champion of causes. As our organization continues to evolve, we will find new and innovative ways to champion the causes that fall within our mission of Eliminating Racism and Empowering Women. Sometimes we will succeed and sometimes we won't, but we will always continue to look for ways to make a difference.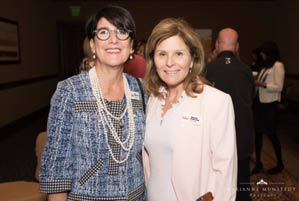 Finally, I want to acknowledge the concerted and passionate efforts of Jill Mapstead, former Board Chair. Jill along with CEO Regina Edwards dedicated countless hours over the past several years to the advancement of programming, Board growth and staff development. The extraordinary organization I have the privilege to inherit is due in large part to these two women. I could not have asked for better mentors, and I thank them both for their enormous contributions.
I hope all of you are as excited about the future of our YWCA as I am. Thank you for all you are doing to support our communities, our mission, and our organization.
Paula Hill, Board Chair
YWCA Metropolitan Phoenix