April 5th is Arizona Gives Day! Promote the YWCA Metropolitan Phoenix.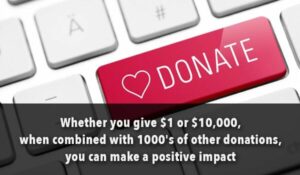 Hosted by the Alliance of Arizona Nonprofits and the Arizona Grantmakers Forum, Arizona Gives Day is a powerful 24 hour online giving experience that unites Arizonans around causes they believe in. Make a Donation on Arizona Gives Day to the YWCA to help Eliminate Racism and Empower Women. Your donation to the YWCA is tax deductible. No matter how big or small, whether you give $1 or $10,000, when combined with 1000's of other donations, you can make a positive impact and help The YWCA improve the quality of life for women and their families throughout the community. Visit: https://azgives.givebig.org/c/GivesDay/a/ywcaaz to make your donation today through April 5, 2016. Thank you for your generous support!
Your Donation Will Help to Support YWCA Programs
YWCA Meals and Wheels, Senior Centers and We Feed Four Feet allows Seniors and disabled adults to benefit daily from the hot meals, social activities, companionship and transportation provided by the four West Valley YWCA Senior Centers. The Mission is to provide nutrition, socialization and support services to older adults, particularly those at-risk, which will enable them to maintain a maximum level of independent living with dignity. The YWCA is the ONLY meals on wheels program in Glendale and El Mirage. This is often the only meal provided each day to home bound seniors and disabled in the west Valley. The YWCA also provides meals for homebound Seniors' Pets through our "We Feed Four Feet" Program.
YWCA's Own It Financial Education is a comprehensive program that teaches participants how money works and provides tools for breaking the cycle of poverty and building financial success.
YWCA Women's Empowerment Series educates and empowers women through presentations by exceptional women leaders focusing on issues facing women and families in Arizona.
The Young Women's Forum is a dynamic setting where young female leaders in the community can connect with one another, share strategies and create support networks.
Where your donation goes.
$10 – Donation provides materials for 1 student that attends Own It Financial Education
$25 – Provides a registration for a student to attend a Women's Empowerment Luncheon
$50 – Provides meals for a senior for 5 days
$100 – Provides meals for a senior for 10 days