Accountability not Justice
Today former Minneapolis police officer Derek Chauvin was convicted of the 2020 murder of George Floyd. Today proved that the blatant disregard of Black lives and people of color will no longer be tolerated.
We know that communities of color experience disproportionately high rates of unnecessary and excessive force by law enforcement. Racial profiling and the overall criminalization of communities of color reinforce dangerous police practices with lethal consequences for those targeted. We urge all to join our call for immediate Congressional action to pass the George Floyd Justice in Policing Act as a first step toward ending the use of racial profiling and excessive force by police and ensuring police accountability. Contact your Senators at 202-499-6085. Our hearts and prayers remain with the family of George Floyd as they continue to grieve the loss of their father, husband, brother, and friend, and to all those who have suffered the loss of their loved ones as a result of police violence.
At YWCA Metropolitan Phoenix, we are unwavering in our commitment to justice. We do this work because we demand a world of equity and human decency, in which women, girls, and people of color can live healthy, safe, full lives with dignity. We will get up and do the work until injustice is rooted out and institutions are transformed – until justice, just is.
Stand Against Racism Addresses Racism as a Public Health Crisis
You are invited to join us this Thursday, April 22nd from 5:00pm – 7:00pm for Stand Against Racism. In this interactive experience, we will collectively explore instances of racism and build the muscle of being a better ally – to speak up, to stand up, and to advocate when witnessing injustice.
What happens when we encounter racism?
How will you respond?
How will your allyship show up?
Using a Theatre of the Oppressed model, we are convening this conversation for us to practice being an ally, working with our fellow community members, and shining the light on racism as a public health crisis. Join us for this FREE virtual event!
We take a Stand Against Racism every day by raising awareness about the impact of institutional and structural racism and by building community among those who want to work for racial justice.
Structural racism plays a large role in determining the conditions in which people are born, grow, work, live, and age. These factors affect people's access to quality housing, education, food, transportation, political power, and other social determinants of health. Understanding and addressing systemic racism from this public health perspective is crucial to eliminating racial and ethnic inequities, and to improving opportunity and well-being across communities.
Our collective efforts can root out injustice, transform institutions, and create a world that sees women, girls, and people of color the way we do: Equal. Powerful. Unstoppable.
National Volunteer Appreciation Week
National Volunteer Week is an opportunity to recognize the impact of volunteer service and the power of volunteers to tackle society's greatest challenges, to build stronger communities, and be a force that transforms the world. Each year, we recognize and thank volunteers who lend their time, talent, and treasure to make a difference in our communities.
Whether online, at the office, or socially-distanced; whether with a vote, a voice, or a wallet – doing good comes in many forms, and we recognize and celebrate them all. Our volunteers have definitely answered our call this past year when we needed them most. We offer a humble and heartfelt THANK YOU!
Current YWCA volunteers – you'll be receiving a special treat in the mail; please keep your eye out for it! If you are interested in volunteering with us, check out our upcoming opportunities.
Cox Diversity Scholarship
YWCA Metropolitan Phoenix is proud to partner with Cox Communications to offer graduating high school seniors a $3,500 Diversity Scholarship.
YWCA Metropolitan Phoenix is one of ten organizations that is partnering with Cox to provide a total of $35,000 in scholarships through The Arizona Community Foundation. Participating organizations include: ACEL, Be a Leader Foundation, Black Chamber of Arizona, CPLC, NAACP Maricopa County Branch, one-n-ten, Southern Arizona Aids Foundation, Women's Foundation of Southern Arizona, YWCA Metropolitan Phoenix and YWCA Southern Arizona.
The competitive diversity scholarships require applicants to be on track for graduation with a minimum 2.5 grade point average and provide demonstrated leadership and community service.
Application deadline is May 1, 2021. Application and eligibility details are available from the Arizona Community Foundation.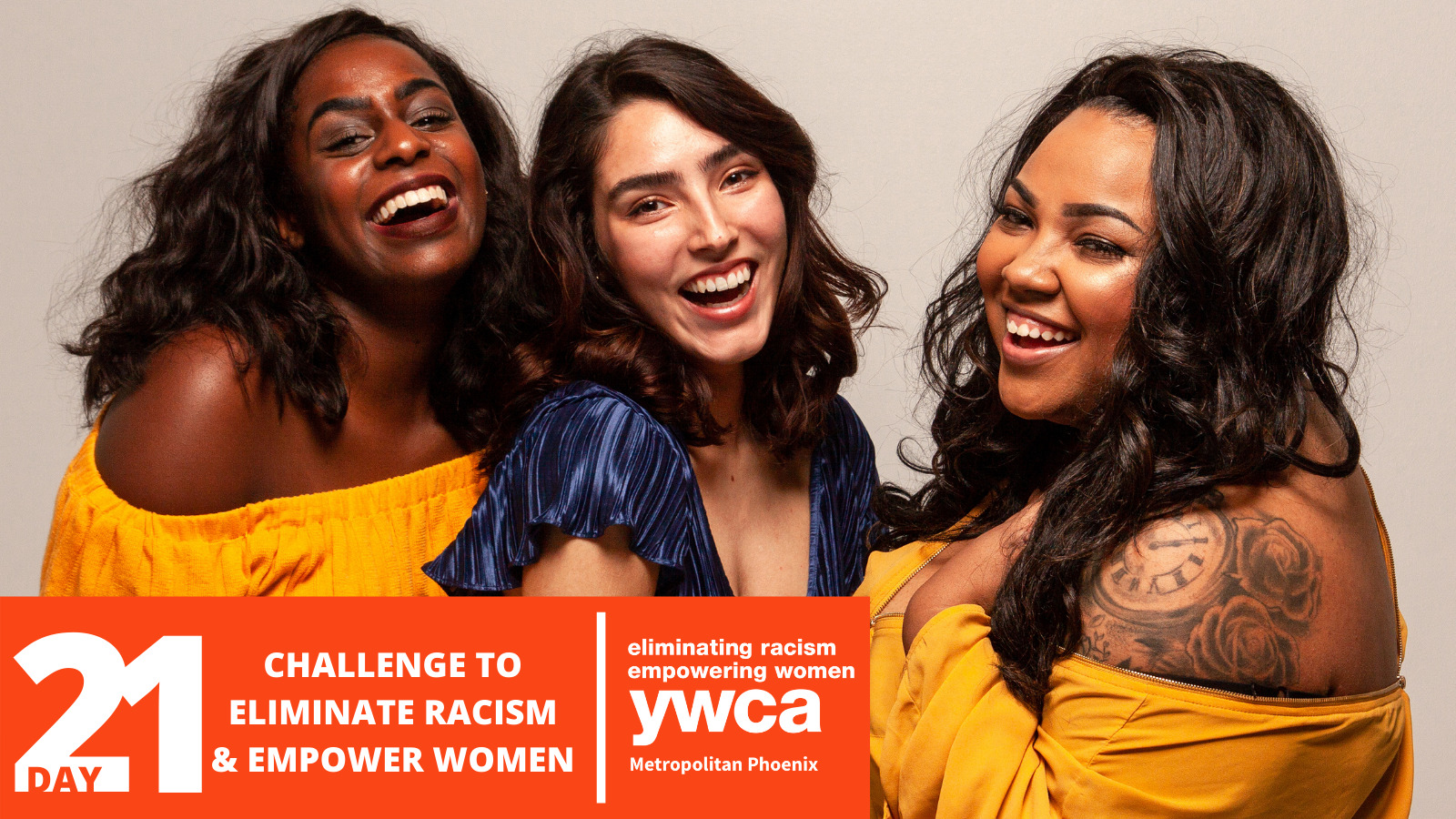 21-Day Challenge to Eliminate Racism & Empower Women Begins May 3rd
We invite you to register for our upcoming 21-Day Challenge to Eliminate Racism & Empower Women beginning May 3rd. Our 21-Day Challenge takes individuals on a journey to become more mindful, to create dedicated space for learning, and to partner with YWCA (and fellow participants) in eliminating racism and empowering women.
This experience helps participants to understand how racial and social injustices impact our community and to identify ways to dismantle inequities and discrimination.
Our 21-Day Challenge is a self-directed journey with opportunities to engage in community; each day has learning options for you to choose from in order to shape your own learning, plus a dedicated YWCA Facebook group for dialog, engagement, and support along the way.
The 21-Day Equity Challenge was created by Dr. Eddie Moore Jr. (#BlackMind) and co-developed with Debby Irving and Dr. Marguerite Penick (#DiverseSolutions). The plan has been adopted by Organizations, Associations, and Corporations all over the nation/world. Dr. Eddie Moore Jr. is the Director of the Privilege Institute in Green Bay, WI. Dr. Moore created the Challenge to not only help people better understand issues surrounding equity, inclusion, privilege, leadership, and supremacy, but also to do so in a way that would build a habit of learning by stretching it over 21 days. We are excited to be offering you this 21-Day Challenge inspired by Dr. Moore's work.
This opportunity is for everyone who wants to be part of the change. We know it could be hard to build the muscle to be able to see racism in and around our lives…every day.
Monthly Giving Fuels Our Mission…All Month Long!
Help build a sustainable movement by joining our Impact Circle and providing dignity, freedom, peace, and justice for all…all year long! Your monthly gift creates impact for the thousands of women, seniors, and people of color we serve each year. Your support will be a reliable source of funding year-round to ensure that our mission can be fulfilled month after month.
For anyone who becomes a monthly donor, we're excited to offer this Until Justice Just Is decal.
April is Financial Literacy Month
April is Financial Literacy Month! Each April we work to raise awareness about the importance of financial literacy for all members of our community. Did you know that we offer financial literacy workshops and personalized and individual financial coaching? Our Prosperity Programs seek to build financial equity for women and their families.
AZ Qualifying Charitable Tax Credit Deadline Extended to May 17, 2021
In our Prosperity Programs, participants learn how to have their money work for them and their goals. If our participants were working with their coach to decide on making a Qualifying Charitable Tax Credit donation, they would conclude it's a win-win!
Qualifying Charitable Tax Credit donations allow individuals and couples to make donations directly to a qualifying nonprofit and then receive a dollar-for-dollar tax credit on their AZ state taxes! Because of the extended tax filing deadline, gifts made before May 17, 2021 could be credited on your 2020 state income taxes.
Your gift of:
$200 hosts a YOU∙nity Learning Circle

to raise awareness of inequality and injustice.

$400 provides 30 days of delicious, hot meals, and (virtual) connection to 2 seniors.

$800 provides wage negotiation workshops for 40 women, giving them the tools to advocate for equal pay and close the gender pay gap.
Qualifying for the Arizona Tax Credit is as easy as 1, 2, 3!
Make a qualifying contribution to YWCA Metropolitan Phoenix. All donations up to $400 (for individuals) and $800 (for couples) may qualify for a dollar for dollar tax credit!

Fill out your AZ state taxes using our Qualifying Charity Organization (QCO) Code 20302. A donation to YWCA doesn't preclude you from donating to the school, foster care, and other tax credit programs.

Pat yourself on the back for supporting racial justice and gender equity in Maricopa County!
This is not professional tax or legal advice. For more info on the tax credit visit the AZ Dept of Revenue website. Arizona YWCA Metropolitan Phoenix is a 501C3 not-for-profit and a Qualifying Charitable Organization. Tax ID# 86-0098936. QCO Code: 20302.
Are You on Social Media? If so, Let's Be Friends!
We are looking to grow our following and would love your help in just 2 simple steps!
Please like, share, and follow our handles on social media, and

(for bonus points!) share the graphic to the left on your social media platforms and encourage others to join in our fight to eliminate racism and empower women.