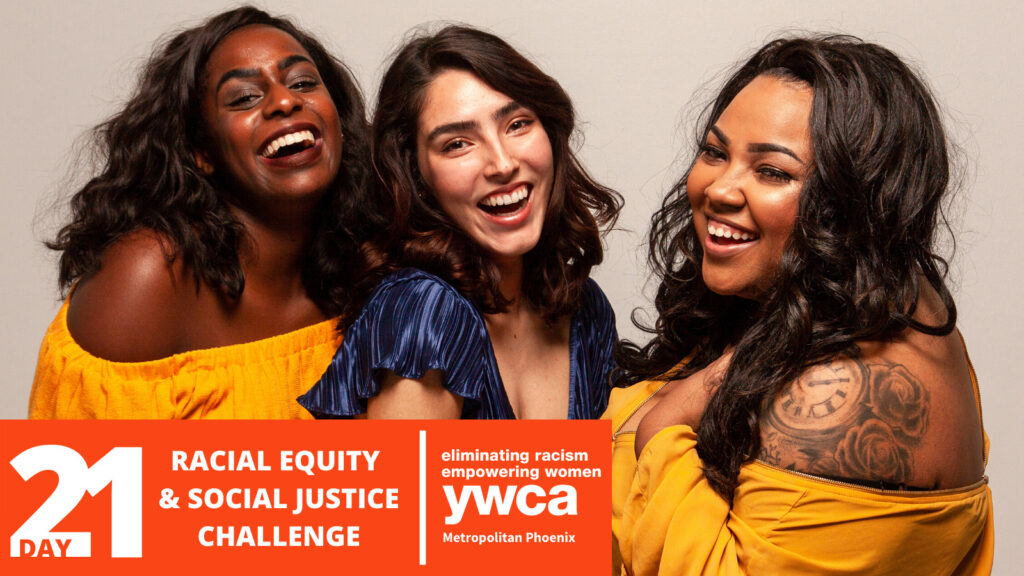 With our first challenge, people had been asking "What do I do now?" Our intention was to help people start along their journey towards greater awareness of systemic racism and racial justice allyship. With this challenge, we want to continue the learning together. With the focus on empowering women and racial justice, we have planned four weeks of learnings about the impact of women across Arizona.
In joining this challenge, you will be creating dedicated space and time to build more effective habits. Challenges such as reading an article, listening to a podcast, watching a video, and more will be the catalyst for your own journey to build more effective social justice habits, be an ally to those facing inequities, and to identify ways in your own community to dismantle racism and other forms of discrimination.
The 21-Day Equity Challenge was created by Dr. Eddie Moore Jr. (#BlackMind) and co-developed with Debby Irving and Dr. Marguerite Penick (#DiverseSolutions). The plan has been adopted by Organizations, Associations, and Corporations all over the nation/world. Dr. Eddie Moore Jr. is the Director of the Privilege Institute in Green Bay, WI. Dr. Moore created the Challenge to not only help people better understand issues surrounding equity, inclusion, privilege, leadership, and supremacy, but also to do so in a way that would build a habit of learning by stretching it over 21 days. We are excited to be offering you this 21-Day Challenge inspired by Dr. Moore's work.
Organizations/Groups: YWCA can facilitate a 21-Day Challenge which includes a custom registration landing page and daily email to all participants for 21 days. For more information please contact us.
Our next 21-Day Challenge begins May 3rd.
WEEK 1 – RACISM AS A PUBLIC HEALTH CRISIS
WEEK 2 – SYSTEMS PERPETUATING RACISM
Welcome to week 2 of our 21-Day Challenge. Our world and our country are full of systems. Voter registration, open enrollment for schools, process to sign up for a checking account, or to apply for a mortgage. Everything has a system, likely created to streamline and "make things easier." Systems intended to streamline though have a dark side. They allow for inequities to rage, they allow for isolation and exclusion, they allow for racism to be perpetuated under the cover of "that's the way we have always done it."
As individuals interested in learning more about racial equity, you've likely heard of the term "school-to-prison pipeline," (if you haven't check out this infographic made by the ACLU). Most notably this term is tied to the systems that funnel African American boys out of school and into prison at alarming rates. Today we will learn more about how school disciplinary policies disproportionately affect Black students. Of particular concern is the adultification of Black girls – the stereotypes and misperceptions, which view Black girls as older, more mature, and more aggressive.
Challenges
RAISE YOUR AWARENESS:
Learn about the school to prison pipeline. Out of school suspensions have doubled since the 1970s and continue to increase even though juvenile crimes have continued to drop.
BONUS: Across the country, Black girls are six times more likely to be suspended than white girls. Read this study to better understand how Black girls are being pushed out of school.
TAKE ACTION: Is there racial inequity in your neighborhood school? In the school by your office? Where your children or family members go to school?
Check out the school you are thinking of with this interactive map which examines racial disparities in educational opportunities and school discipline.
Research proves that the presence of law enforcement doesn't create a safer school environment. So what does? Positive relationships between students, staff, and families. Take a look at the Safe Classrooms Pledge in partnership with the ACLU. Can you advocate for these practices?
Over the past few years, it's become clear to many that the media is biased. For some, the bias is overt – certain outlets target specific demographics or viewpoints. For other media outlets, the bias is more subtle, but there nevertheless. Bias has played such a role in media within the last year – often driven by clicks and views. The media's use of bias to create and amplify divisions can lead to something much more dangerous. Today, in consideration of the increase of overt expression of anti-Asian sentiment, along with the recent attacks affecting the Asian and Pacific Islander community, we are showcasing the role media plays in propagating anti-Asian sentiment in their work and reporting.
Challenges
RAISE YOUR AWARENESS: Within the Asian and Pacific Islander (AAPI) community 3,795 hate incidents, mostly against women, have been reported in the last year. While hate crimes in general have decreased, hate crimes against the AAPI community have risen since the beginning of 2020.
Create some awareness for yourself around the role of media in anti-Asian racism.
If you have time for an informed listen, listen to how this blanket hate and violence is affecting communities and individuals.
TAKE ACTION: Like we talked about in week 1, words matter. Take some time to learn about what Arizona based organizations are doing to ensure inclusivity within the Asian community.
PBS tells us 8 different ways we can take action to protect our Asian American community members. Do one today.
Unconscious biases often show up in hiring practices across industries. These unconscious biases perpetuate racism within corporate settings. Spend today taking in others' experiences.
Challenges
RAISE YOUR AWARENESS: Read about how Black job seekers describe the biases they still face in hiring practices today.
OPTION 2: Brenda, our Operations Director, talks about the ways that YWCA Metropolitan Phoenix has uncovered racist practices and brainstorms ways you can use these actions in your own space or organization.
Women of color are choosing to leave jobs, volunteer roles, board of directors positions or leadership roles in record numbers. Why? Their primary reason is that no one listened to them. It happens all the time, in every type of organization. Women of color get stereotyped, minimized and their talents are used to attack and demean them, not lift them up. Why do we allow our women of color leaders, with invaluable perspective and talent, walk away?
Challenges
RAISE YOUR AWARENESS: The display of white fragility and need for white comfort is harmful to the work we do, and the people of color we are working with. We need to do more to understand when it is happening, call it out, and end this practice.
We ask people of color to teach us, show us, and relive their trauma so that we can understand their 'lived experience.' Let's do more to understand the weight of that work and learn how to do the work for ourselves to learn and understand racism, our white privilege and fragility.
TAKE ACTION: As a white woman, examine your privilege, and when have you asked for comfort when you faced an uncomfortable truth about racism?
Too often we rely on other people to call out and make change, in this TEDx, Brittany Packnett encourages us all to "be the domino" that is the catalyst for change. It is not only the role for women of color to fight for equality, but all women also need to stand and speak up!
As a woman of color, make a plan for self-care and opportunities to check in with others that share similar experiences as you.
BONUS: Join us and Outcast Theatre Collective tonight at 5:00 p.m. as we co-create a Theatre of the Oppressed scene!
As if facing a lifetime of hurdles – from disparities in education to inequitable pay and biases in hiring to dangerous policing and murder by police – was not enough, Black Americans face yet another challenge. If they are fortunate enough to reach retirement, so much has been stacked against them for so long that the risk of being thrust into poverty and ending up unhoused is greater than for white Americans. Having had fewer opportunities to take high wage-earning jobs and save towards retirement, some much work longer into their later years, even at the expense of their health. Today we skim the surface on retirement by race.
Challenges
RAISE YOUR AWARENESS: This quick video explains how retirement plans are designed to benefit those with higher incomes over those with lower incomes.
BONUS: Annuity.org published "50 Essential Retirement Statistics for 2020." Some statistics to note are:
Only 61% of Hispanic Americans and 64% of Black Americans have some retirement savings, compared to 80% of white Americans.
Just 30% of Hispanic families and 34% of Black families have individual or employee-sponsored retirement accounts, compared to 60% of white families.
Black and Hispanic families' net housing wealth averages $94,400 and $129,800, respectively, white families' housing equity averages $215,800.
In March 2021, National Council on Aging, published their findings that over half of Black and Hispanic seniors aged 65+ have incomes below 200% of the Federal poverty line. Black and Hispanic seniors are reaching retirement age with too little in savings or the risk of facing poverty or homelessness by retiring.
TAKE ACTION: At YWCA Metropolitan Phoenix, we're building just, equitable Arizona communities that embrace and celebrate each person's inherent value.
From those facing racism, marginalization, and unjust barriers, to those seeking new understanding, YWCA exists to support and collaborate with them. For those who need direct aid and services, YWCA is here to uplift and support them through:
Prosperity Programs – Financial literacy workshops coupled with personalized and individual financial coaching for women in transition;
Senior Programs – Home delivered and congregate meal programs, wellness checks, and socialization for seniors living in Glendale; and
Equity Programs – Stand Against Racism, 21-Day Challenges, and YOU∙nity Learning Circles intended to raise consciousness and awareness of racial, social, and gender justice issues.
Please consider demonstrating your commitment to eliminating racism and empowering women with a gift to YWCA today. Every dollar is invested to enhance and then sustain our vital programs and services.
WEEKEND WONDERING: This weeks' progression started with the experiences of youth in school systems and followed life experiences through adulthood and into retirement. Sharing her recent research, Robin Diangelo, author of White Fragility, found that the majority of white Americans experience life – cradle to grave – without developing meaningful and authentic relationships with People of Color. At YWCA we see that as a significant loss to our full humanity. How might the dismantling of systems (that seriously marginalize People of Color) be hastened if we lived in a society where deeply held cross-racial relationships were the norm?
WEEK 3 – ENVIRONMENTAL RACISM
WEEK 4 – INEQUITIES INTENSIFIED IN THE PANDEMIC