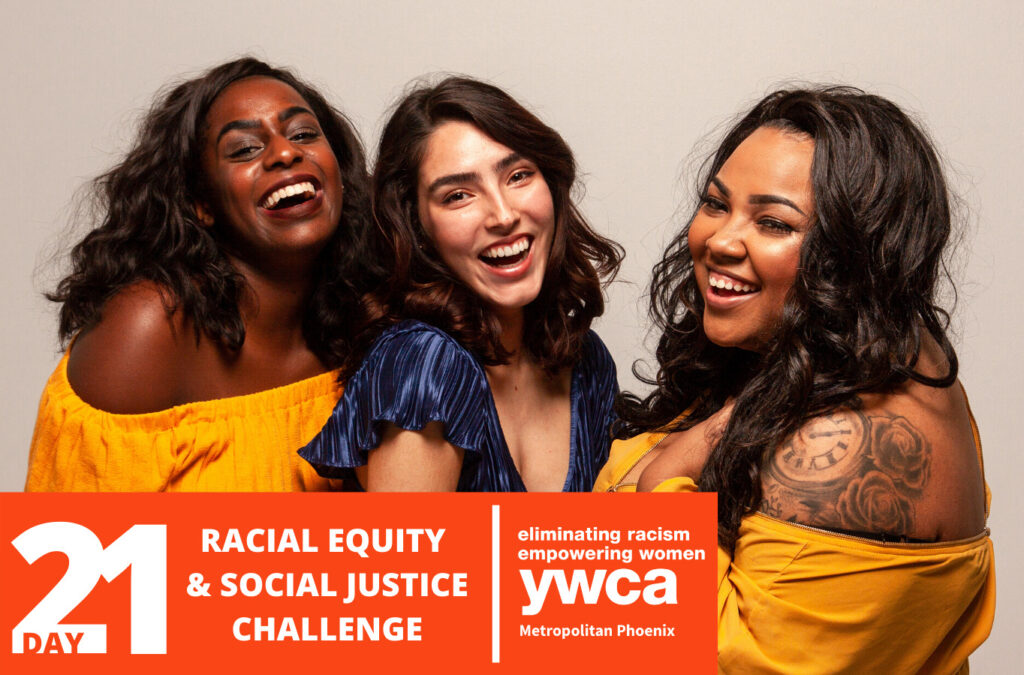 With the ongoing protests of police violence towards people of color, many have been reaching out asking, "What do I do now?"
This 21 day journey will help individuals become more mindful, to create the dedicated space for learning and to partner with YWCA (and fellow participants) in eliminating racism and empowering women. Our current Challenge is centered on how women across our community are equal, powerful, and unstoppable, even if they are often not seen as such. Learn about Arizona's vast history of powerful women, how your vote can shape our future, and the economics around womanhood. Participation in an activity like this helps us understand how racial injustice and social injustice impact our community and how to identify ways to dismantle inequities and discrimination.
We talk about our Challenge as a self-directed journey in community:
Each day has learning options for you to choose from in order to shape your own learning.
Dedicated YWCA Facebook group for dialog, engagement, and support along the way.
There is no cost to participate.
This opportunity is for everyone who wants to be part of the change. We know it could be hard to build this muscle. But we need to open our hearts, our minds, and our will to be able to see racism in and around our lives…every day.

Every day matters. Black lives matter. This is how we create change.
Once you've registered, you will receive an email with the direct link to the
21 Day Challenge. Our Challenge begins October 5th.
Organizations/Groups:  YWCA can facilitate a 21 Day Challenge which includes a custom registration landing page and daily email to all participants for 21 days. For more information please contact us.
Donations from our community help to ensure that we can get up every day and do the work of racial and gender justice. If you're able, please consider making a contribution.