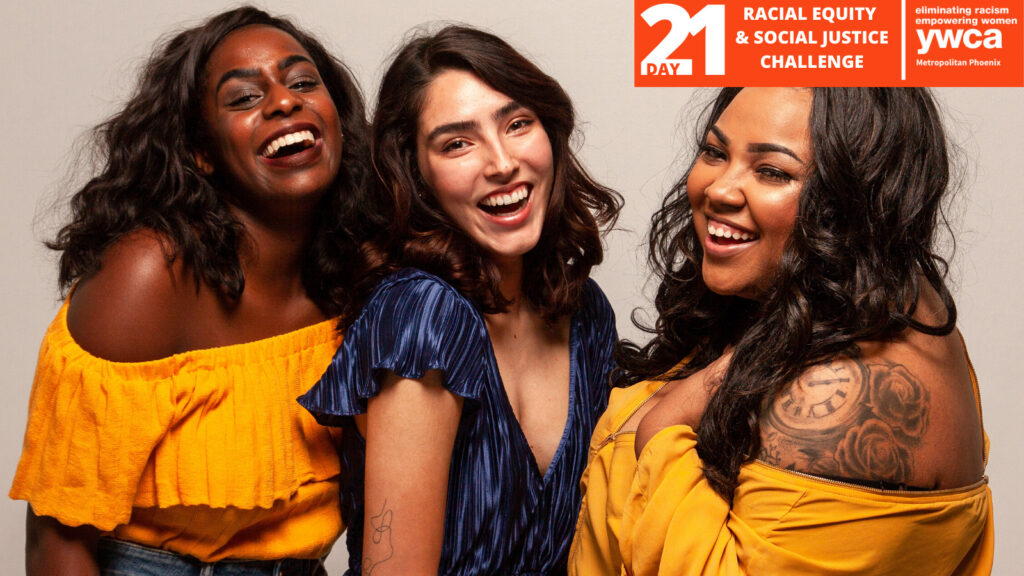 Thank you for joining us along a 21 day journey to explore racial and social equity; to become more mindful, create dedicated space for learning, and to partner with us in eliminating racism and empowering women. This challenge is centered on how racial inequities impact voting, education, criminal justice, and public health.
In joining this challenge, you will be creating dedicated space and time to build more effective habits. Challenges such as reading an article, listening to a podcast, watching a video, and more will be the catalyst for your own journey to build more effective social justice habits, be an ally to those facing inequities, and to identify ways in your own community to dismantle racism and other forms of discrimination. Download this tracker to assist yourself in the daily challenges. Register here to join our current 21 Day Challenge.
WEEK 1 – VOTING
WEEK 3 – CRIMINAL JUSTICE REFORM
WEEK 4 – PUBLIC HEALTH
"Of all the forms of inequality, injustice in health is the most shocking and inhuman."
– Dr. Martin Luther King Jr.
Welcome to the last week of the 21 Day Racial Equity and social justice challenge. People of color suffer worse health outcomes than white people, even when controlling for income and other factors. Learn why these disparities aren't about race, but racism. Today we are talking about the impact of toxic stress caused by daily exposure to discrimination on the health of people of color.
Challenges
OPTION 1: Watch this TED Talk about how research has found that higher levels of discrimination are associated with a broad range of negative health outcomes such as obesity, high blood pressure, breast cancer, heart disease, and early death.
OPTION 2: Listen to this podcast about the effect of chronic stress from frequent racist encounters on the health outcomes of people of color. The article also features a case study on how a large scale ICE raid in Iowa impacted the health of pregnant Latinx women across the state.
OPTION 3: Read this article about how the mental burdens of bias, trauma, and family hardship lead to unequal life outcomes for girls and women and girls and women of color in particular.
America is the most dangerous wealthy country in the world to give birth. This is, in part, due to the dramatic racial disparities in maternal and infant mortality. Toxic stress and bias in medical care mean that women of color are three to four times more likely to die from pregnancy-related complications. Racism is a public health crisis and it is time to treat it as such.
Challenges
OPTION 1: In Arizona, Black babies die at twice the rate of white babies. Read this article about the infant mortality gap and what Black doulas are doing to change it.
OPTION 2: Watch this interview featuring Stacey D. Stewart, the President and CEO of March of Dimes, where she and her co-panelists grapple with the growing maternal health crisis, and how to provide every mother the best care.
OPTION 3: Read this article on how the negative impact of institutional racism on maternal and infant mortality for Native American women closely parallels that of African American women. For a bonus read, check out this article about how Native women in Arizona are confronting their high rates of maternal mortality.
A large part of our health is determined by our environment. For generations, the impact of pollution and environmental damage has largely fallen on marginalized communities. Systemically racist policies have resulted in people of color having an increased likelihood of exposure to unsafe drinking water, lead paint in homes, and industrial waste. Today we are looking at the environmental justice movement and the people of color pushing for change.
Challenges
OPTION 1: Watch this video about how systemic racism means that African Americans face disproportionate rates of lead poisoning, asthma, and environmental harm.
OPTION 2: Read about the climate crisis's disproportionate impacts on Indigenous communities, and how Indigenous people have been at the forefront of the fight against the expansion of fossil fuel infrastructure and other environmental injustices.
OPTION 3: Watch this interview with scientist and philosopher Vandana Shiva where she links environmental activism to social justice and how that intersection can help us find common humanity.
OPTION 4: Read this article about how COVID-19 pandemic has exposed America's clean water crisis.
"Not everything that is faced can be changed, but nothing can be changed until it is faced." – James Baldwin
The history of the exploitation and brutalization of people of color by doctors and others in the medical field is one of America's most tragic and largely untold stories. Thanks to the work of people like Harriet Washington, author of Medical Apartheid, there is a new willingness to grapple with the impact of this trauma. Knowing our past if the first step towards a more equitable future.
Challenges
OPTION 1: Listen to this radio story which examines why Latinx communities are being disproportionately impacted by COVID-19, including being hospitalized from the virus at four times the rate of white Americans.
OPTION 2: Listen to this podcast about the United States Supreme Court ruling, Buck v. Bell, that institutionalized the racist eugenics movement and led to 70,000 forced sterilizations of people of color and people with physical and mental disabilities.
OPTION 3: Read this article about how racist stereotypes led to approximately 20,000 people – many of them Latinx – being forcibly sterilized in California and how this is echoed in the political landscape today.
Have you ever been to the doctor and have them tell you that the pain or discomfort you are feeling isn't real or isn't serious? Do you worry that, in an emergency, unconscious bias could delay or deny you life-saving care? If you are a person of color this is an all to common experience. Today we are learning how a history of racism in American medicine combined with unconscious bias from health care professionals is impacting the quality of care that people of color receive today.
Challenges
OPTION 1: Watch this interview with Harriet Washington, author of Medical Apartheid who talks about how, even though the worst medical practices of 18th and 19th centuries are over, there are still a lot of medical research studies that can be abusive.
OPTION 2: Read this article about the dangerous racial and ethnic stereotypes that still exist in medicine today and how they impact the care that people of color receive from their healthcare providers.
OPTION 3: Listen to this podcast about how unconscious bias becomes dangerous in emergency medical situations where providers are much more likely to default to making decisions based on stereotypes.
OPTION 4: Read about how outbreaks of new diseases have historically lead to racial scapegoating and why we need to be vigilant against rising anti-Asian racism fueled by fear of Coronavirus.

Well done, you've reached the end of the 21 Day Racial Equity & Social Justice Challenge 2020! On behalf of YWCA Metropolitan Phoenix and our sisterhood of associations across the country, thank you for your commitment and participation.
It is said that it takes 21 days to form a habit. When we began this challenge, our goal was to provide valuable content and to facilitate meaningful discussions within our community, around current issues of injustice and inequity. It was our hope that this challenge would uplift individuals to adopt new thoughts and habits, and to spark a renewed commitment to the fight for a more just and equitable society.
In addition to adopting new habits which empower you to confront issues of racial equality and social justice, it is our sincere hope that you will TAKE ACTION to help those people whom you know are systemically disempowered and disenfranchised. In addition to the many action alerts presented to you throughout the last 21 days, I urge you to find opportunities to work on behalf of those vulnerable groups. Volunteer your time at a local foodbank, support local businesses or provide resources to the homeless and hungry, find an organization meaningful to you and give of your time and talents.
If you have not read or interacted with each piece of content from this year's challenge, now is a great time to go back and engage, find additional content to share in our Facebook group, and keep the conversation going. Discuss with your family and friends the impact that this challenge has had on you and invite them to take action.
Between COVID-19 and the protests against systemic and institutional racism, we find ourselves in unprecedented times. It is my sincerest hope that on the other side, the spirit of togetherness, love and compassion that I have seen displayed will continue on and be extended to all people, creating a more just and equitable society. Again, thank you for your commitment and dedication to this challenge.
Stay home, stay safe, don't be racist,
Debbie Esparza