YOUR VOICE. Your Vote. Your Future.
Between federal, state, and local elections, there are nearly 7,000 seats up for grabs across the country in this year's Midterm elections on Tuesday, November 8, 2022. These elections will set the tone of the nation for years to come.
Action Plan
STEP 1: REGISTER TO VOTE!
YWCA USA has partnered with When We All Vote to make registering to vote and encouraging others to register as easy as possible.
Scan the QR code or click here to get started!
Tip: When We All Vote and YWCA USA want to make spreading the word and encouraging others to vote as easy as possible: Post this printable flyer in public spaces to encourage others to be sure they've registered.
If you're already registered to vote, you'll need to check your voter registration to confirm it is still active. Make sure to update your registration if you've moved or your name has changed since you last voted.
STEP 2: GET TO KNOW THE ELECTION PROCESS IN YOUR STATE!
The 2022 General Election will be held on Tuesday, November 8, 2022 across the United States, but the voting process varies widely by state. Check your state or local election office's website to find registration deadlines and early voting information, to request an absentee ballot.
STEP 3: DEVELOP YOUR PLAN TO VOTE!
Will you be voting early in person? By mail? On Election Day? If you're voting in person, do you know how you'll get there?
STEP 4: SPREAD THE WORD!
Share the GOTV tools and resources above with everyone you know digitally, through social media, text, or email and use the hashtag #YWomenVote to amplify your efforts!
Consider contacting your neighbors to share the tools above, joining phone or text banking efforts, or printing and posting the resources, like the flyer above, in well-frequented places such as your local library, laundromats, or grocery stores — it's time to get creative!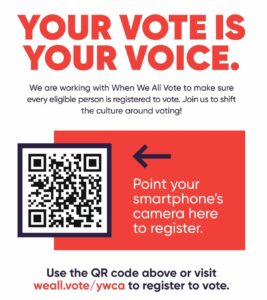 There are many ways to get involved at YWCA Metropolitan Phoenix
Your voice matters as we stand up for social justice, help families and strengthen communities. Whether you have time, talents, or treasures to contribute, learn how you can plug in to the YWCA community.