Our Programs are Challenging Systems of Oppression.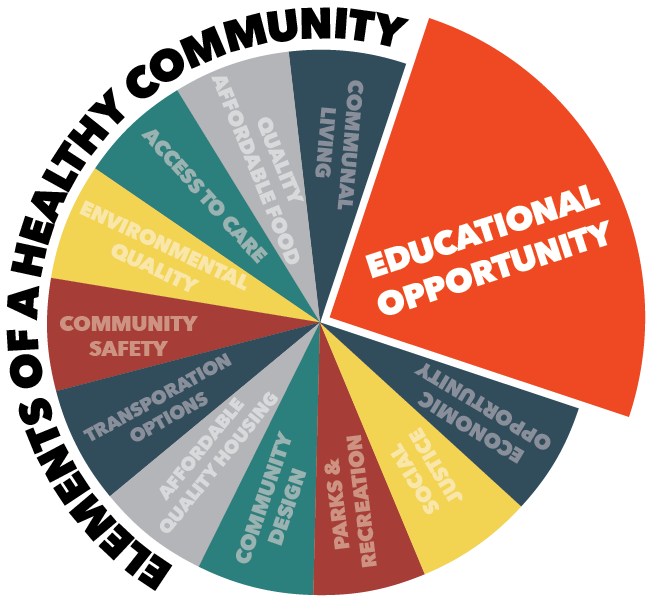 We are shifting the Health Paradigm.
In 2021, YWCAs across the nation declared Racism as a Public Health Crisis.
In 2022, YWCA Metropolitan Phoenix will take a deep dive into how race and gender directly relate to the twelve Elements of a Healthy Community.
Each month we will shine a light on a different Element and shine an even brighter light on gaps and the impacts that are occurring within our community. The Element will act as our conversation catalyst during our panel discussions, social media takeovers, blog posts, workshops, and more throughout the month.
Our intent is that you will see how the systems in place are stifling our ability to thrive in healthy communities, and how YWCA Metropolitan Phoenix is challenging that.
2022 marks our 110th Anniversary in Phoenix! For our 110th Anniversary we are introducing YWCA "Sticker of the Month" – a new sticker released each month that illustrates our mission and impact. (See Monthly Stickers, below, for a fun way to stay invested with us!)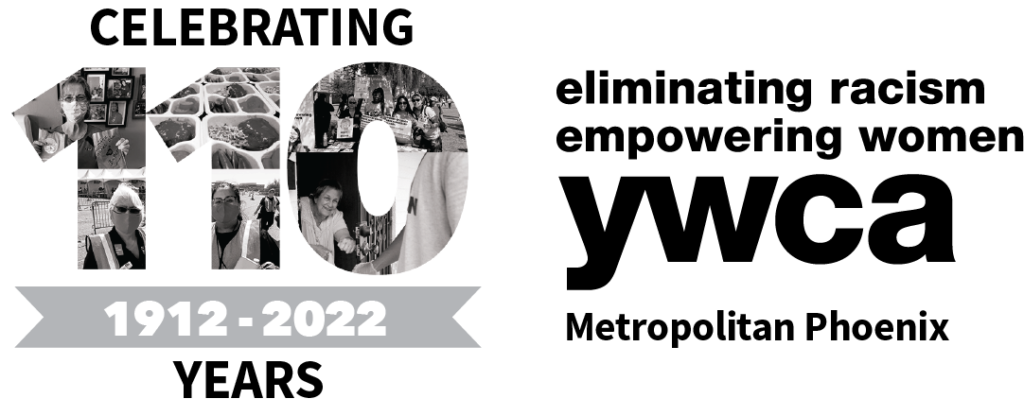 Our Herstory
In 1912, the YWCA of Phoenix established the Luncheon Room, the first women's residence and gymnasium. Since then, YWCA Metropolitan Phoenix has aided women and families during the Great Depression, sponsored the first USO in Phoenix during WWII, supported desegregation (eight years before the US Supreme Court decision), started a Nutrition Project to feed the poor and malnourished in the '60s, prepared mentally disabled adults for living in group homes, and opened Haven House, the first transitional housing facility for homeless women and their children in the state of Arizona in 1989.
In the 21st century, we began offering free financial education courses and coaching for women, we continue to feed home-bound seniors through our Meals on Wheels Program, and we continue advocating for justice, equity, peace, and freedom.
Take a walk down memory lane and read YWCA Metropolitan Phoenix's entire timeline
For Another 110 Years
YWCA Metropolitan Phoenix has been at the forefront of the most pressing social movements from voting rights to civil rights, from affordable housing to pay equity, from violence prevention to health care reform.
Much has changed in the last 110 years, but there is still a lot of work to be done. We need you to continue following our initiatives on social media (follow us below) and writing to your representatives whenever possible. We need you to continue donating to our cause (see Monthly Decals for a fun way to stay invested with us!). And we need you to spread the word. Our advocacy and equity work is important, and it can't go very far if we don't share the work that our organization does every day.
Thank you for supporting us for the past century. Stick around in 2022 for more workshops, advancement, and social change.
January – Educational Opportunity
Did You Know?

YWCA Metropolitan Phoenix was established the same year that Arizona become a state, 1912. That's 110 years that YWCA has been serving and advocating in the state, throughout all of its history.
In 1909, Phoenix City Schools established an official segregation policy. Segregation wasn't ruled unconstitutional in high schools in the Maricopa County Superior Court until 1953.
In 1946, the Interracial Charter was adopted by the 17th National YWCA Convention, establishing that "wherever there is injustice on the basis of race, whether in the community, the nation, or the world, our protest must be clear and our labor for its removal, vigorous and steady."

January 7 | 11am-12pm: Educational Opportunity Panel Discussion

Through the lens of race and gender our panelists Maria Harper-Marinick: Higher Education Leader, Paul Luna: CEO Helios Foundation, Jennifer Sanchez: Intel, Janelle Wood: Black Mothers Forum, and Debbie Esparza: CEO YWCA shine a light on what is working and shine a brighter light on the gaps in equitable education.
January 15 | 10am-2pm: Equity in STEAM Grantee Announcements

We will be announcing all of the grant awards for our first Equity Leadership Learning Cohort. The awards will help fund projects that promote Equity in STEAM across Arizona schools and grassroots nonprofits.
Join us at the Chandler Multicultural Festival where we will make this announcement!
January 19 | 12pm-1pm: Paying for College Workshop with Phoenix College

YWCA Metropolitan Phoenix is proud to partner with Megan Tena, Financial Literacy Specialist Sr. and member of Phoenix College's Default Prevention Taskforce. Megan will walk you through the options to pay for school and help you determine the right path for you.
January 25 | 12pm-1pm: YOU-Nity Learning Circle

Hosted by Jasmine Snipes, this workshop is centered around Implicit Biases. Save the Date!
January 27 | 12pm-1pm: Know Your Worth Panel Discussion

Join YWCA Metropolitan Phoenix and Joyce Harper Medina for this conversation about how to empower yourself as a young professional woman, entering the workforce, and managing student debt. Save the Date!
What Do You Know About Phoenix Indian School?

"In 1891, the Phoenix Indian Industrial School opened in central Phoenix. It housed thousands of children, stripped them of their heritage and taught them trades…The intention was to create a cheap labor force, not to educate them." (AZ Central)
Listen to the podcast episode from Valley 101
Watch the news story from KGUN Tuscon
February – Economic Opportunity
February is Black History Month.

Join us in supporting Black-owned Arizona businesses this month. All of our supporters who visit a black-owned business and post a photo on social media tagging the business and @ywcaAZ will receive February's decal. Thank you for supporting local!

Did You Know?

The State of Arizona did not recognize MLK Day until it was in the state's capital interest. Arizona was the last state in the union to formally install an MLK holiday. The state only introduced the holiday in 1992 because it was denied a projected $200M when the National Football League disqualified Phoenix as the host city for the 1993 Super Bowl game.

The Wage Gap

Most Americans have some understanding of the gender wage gap, hearing that women on average earn 84% of what men earn. That number is even smaller for women of color, with Latinas making only about 57% of what their white, male counterparts make.
YWCA Metropolitan Phoenix is looking to challenge these statistics. We offer a free wage negotiation class called Know Your Worth. Stay tuned for the next class date!

Financial Abuse: Read the article
America Saves Week
March – Women's Empowerment
May – Community Design & Parks + Recreation
Let's Partner Together



We work with multiple agencies across the state of Arizona to make real, equitable change in our state and the country. Each month in 2022 is focused on a different Element of a Healthy Community (plus an additional element for women's empowerment), and each month will feature multiple events and initiatives centered around that month's theme.
If your team, agency, business, or organization does work centered around one of the Elements, please connect with Genevieve Villegas, Advancement Director, to set up a panel discussion, social media takeover, Live event, workshop, author a blog, or other project. We are thrilled and honored to work with so many change-making organizations.



Become a 2022 Sponsor
We have reimagined our sponsor and partner relationship from the typical event sponsorship to an annual sponsorship. Your investment in our mission and services will continue all year-long, allowing your business to reach a greater audience and provide an even greater impact.
If you are curious about these annual sponsorship opportunities, please contact Genevieve Villegas, Advancement Director, to set up a conversation to learn more.
Thank you to Our Sponsors:
Sticker-of-the-Month
For our 110th Anniversary we are introducing YWCA "Sticker of the Month." A new sticker will be released each month that illustrates our mission and impact.
You can snag your limited-edition sticker by:
Making a $25 one-time donation.
Becoming a monthly donor (you're guaranteed to receive every sticker).
BONUS: if you make a $110 donation (one-time or combined gifts) for our 110th Anniversary, you will be featured on the YWCA virtual donor wall.
Start your collection on January 1st!
This Month's Sticker: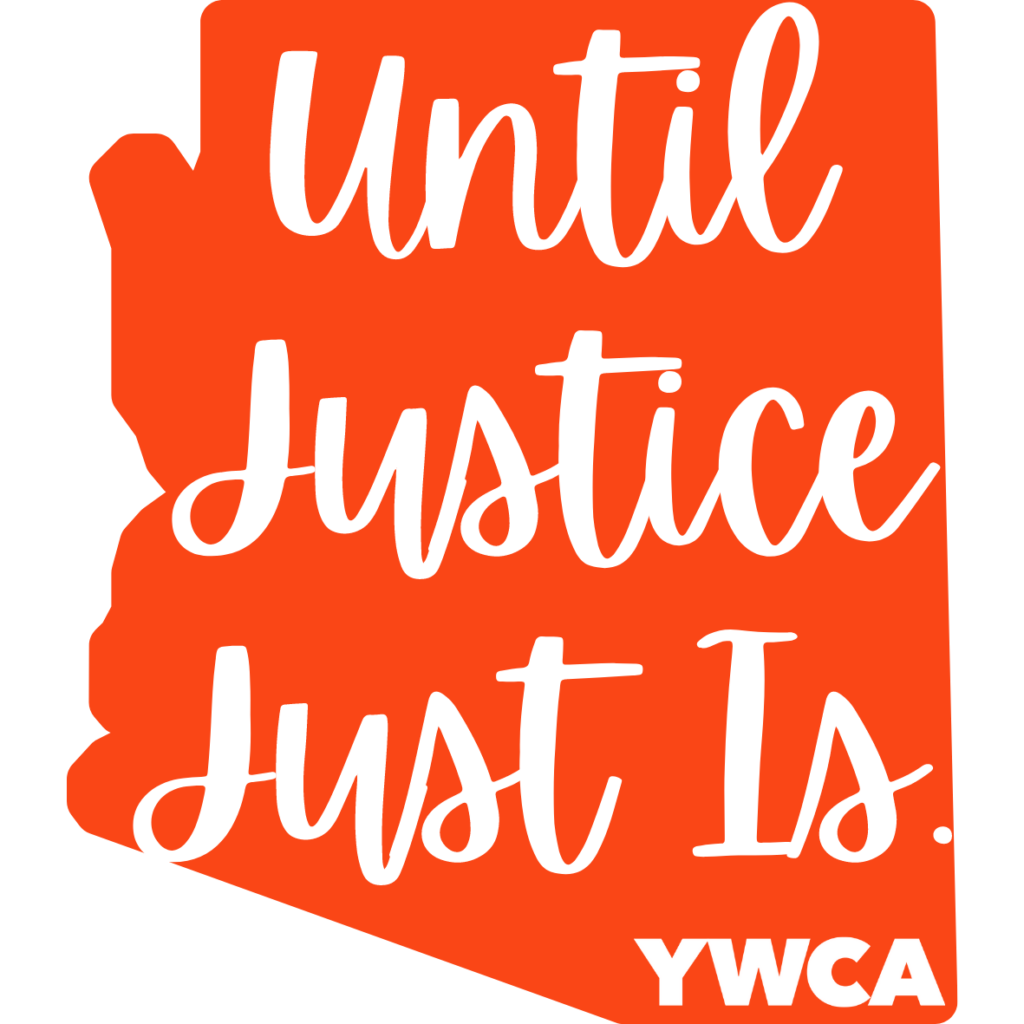 Previous Months' Decals: