Our Programs are Challenging Systems of Oppression.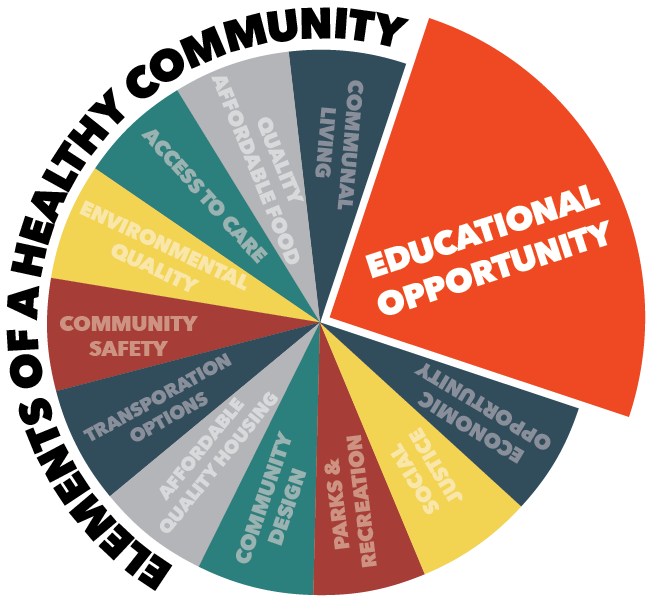 We are shifting the Health Paradigm.
In 2021, YWCAs across the nation declared Racism as a Public Health Crisis.
In 2022, YWCA Metropolitan Phoenix will take a deep dive into how race and gender directly relate to the twelve Elements of a Healthy Community.
Each month we will shine a light on a different Element and shine an even brighter light on gaps and the impacts that are occurring within our community. The Element will act as our conversation catalyst during our panel discussions, social media takeovers, blog posts, workshops, and more throughout the month.
Our intent is that you will see how the systems in place are stifling our ability to thrive in healthy communities, and how YWCA Metropolitan Phoenix is challenging that.
2022 marks our 110th Anniversary in Phoenix! For our 110th Anniversary we are introducing YWCA "Sticker of the Month" – a new sticker released each month that illustrates our mission and impact. (See Monthly Stickers, below, for a fun way to stay invested with us!)
Our Herstory
In 1912, the YWCA of Phoenix established the Luncheon Room, the first women's residence and gymnasium. Since then, YWCA Metropolitan Phoenix has aided women and families during the Great Depression, sponsored the first USO in Phoenix during WWII, supported desegregation (eight years before the US Supreme Court decision), started a Nutrition Project to feed the poor and malnourished in the '60s, prepared mentally disabled adults for living in group homes, and opened Haven House, the first transitional housing facility for homeless women and their children in the state of Arizona in 1989.
In the 21st century, we began offering free financial education courses and coaching for women, we continue to feed home-bound seniors through our Meals on Wheels Program, and we continue advocating for justice, equity, peace, and freedom.
Take a walk down memory lane and read YWCA Metropolitan Phoenix's entire timeline
For Another 110 Years
YWCA Metropolitan Phoenix has been at the forefront of the most pressing social movements from voting rights to civil rights, from affordable housing to pay equity, from violence prevention to health care reform.
Much has changed in the last 110 years, but there is still a lot of work to be done. We need you to continue following our initiatives on social media (follow us below) and writing to your representatives whenever possible. We need you to continue donating to our cause (see Monthly Decals for a fun way to stay invested with us!). And we need you to spread the word. Our advocacy and equity work is important, and it can't go very far if we don't share the work that our organization does every day.
Thank you for supporting us for the past century. Stick around in 2022 for more workshops, advancement, and social change.
January – Educational Opportunity
Educational Opportunity refers to having access to a variety of post-secondary education opportunities, access to high-quality education, and opportunities for developmentally-appropriate and affordable childcare. Having access to education impacts our access to food and economic stability.
Did You Know?

YWCA Metropolitan Phoenix was established the same year that Arizona become a state, 1912. That's 110 years that YWCA has been serving and advocating in the state, throughout all of its history.
In 1909, Phoenix City Schools established an official segregation policy. Segregation wasn't ruled unconstitutional in high schools in the Maricopa County Superior Court until 1953.
In 1946, the Interracial Charter was adopted by the 17th National YWCA Convention, establishing that "wherever there is injustice on the basis of race, whether in the community, the nation, or the world, our protest must be clear and our labor for its removal, vigorous and steady."

January 7 | 11am-12pm: Educational Opportunity Panel Discussion

Through the lens of race and gender our panelists Maria Harper-Marinick: Higher Education Leader, Paul Luna: CEO Helios Foundation, Jennifer Sanchez: Intel, Janelle Wood: Black Mothers Forum, and Debbie Esparza: CEO YWCA shine a light on what is working and shine a brighter light on the gaps in equitable education.
January 15 | 10am-2pm: Equity in STEAM Grantee Announcements

We announced all of the grant awards for our first Equity Leadership Learning Cohort. The awards will help fund projects that promote Equity in STEAM across Arizona schools and grassroots nonprofits.
January 19 | 12pm-1pm: Paying for College Workshop with Phoenix College

YWCA Metropolitan Phoenix is proud to partner with Megan Tena, Financial Literacy Specialist Sr. and member of Phoenix College's Default Prevention Taskforce. Megan walked us through the options to pay for school. Use the recording to help you determine the right path for you.
January 25 | 12pm-1pm: YOU-Nity Learning Circle

Hosted by Jasmine Snipes, this workshop is centered around Implicit Biases.
January 27 | 12pm-1pm: Know Your Worth Panel Discussion

Join YWCA Metropolitan Phoenix and Joyce Harper Medina for this conversation about how to empower yourself as a young professional woman, entering the workforce, and managing student debt.
What Do You Know About Phoenix Indian School?

"In 1891, the Phoenix Indian Industrial School opened in central Phoenix. It housed thousands of children, stripped them of their heritage and taught them trades…The intention was to create a cheap labor force, not to educate them." (AZ Central)
Listen to the podcast episode from Valley 101
Watch the news story from KGUN Tuscon

NICOA & YWCA Metropolitan Phoenix

Through the Native Indian Council on Aging (NICOA) we provide training and work opportunities for older adults who have already exited the workforce. These individuals are looking for ways to get involved in their communities, make friends, create income, or learn new trades. We are proud to offer these opportunities to passionate employees like Maria, Ruben, and Beatrice.
February – Economic Opportunity
Economic Opportunity includes having access to capital for entrepreneurship, diverse and affordable commercial spaces, job training, living wages, and access to internet. Economic opportunity has the following impacts on our health: mental health, walkability/physical activity, air quality.
February is Black History Month.Support a business and receive February's Sticker!

Join us in supporting Black-and-Brown-owned, women-owned, or locally-owned businesses this month. All of our supporters who visit a minority-owned business and post a photo on social media tagging the business and @ywcaAZ will receive February's decal. Thank you for supporting local!

Did You Know?

The State of Arizona did not recognize MLK Day until it was in the state's capital interest. Arizona was the last state in the union to formally install an MLK holiday. The state only introduced the holiday in 1992 because it was denied a projected $200M when the National Football League disqualified Phoenix as the host city for the 1993 Super Bowl game.

The Wage Gap

Most Americans have some understanding of the gender wage gap, hearing that women on average earn 84% of what men earn. That number is even smaller for women of color, with Latinas making only about 57% of what their white, male counterparts make.
YWCA Metropolitan Phoenix is looking to challenge these statistics. We offer a free wage negotiation class called Know Your Worth. Stay tuned for the next class date!
Watch our CEO, Debbie Espraza, tackle the topic of the Wage Gap with YWCA USA.
Financial Abuse: Read the article
America Saves Week

America Saves Week is an annual celebration as well as a call to action for everyday Americans to commit to saving successfully. Through the support of thousands of participating organizations, together we encourage individuals to do a financial check-in that allows them to get a clear view of the finances, set savings goals, and create a plan to achieve them.
March – Women's Empowerment
March is Women's History Month! Follow along with us on Social Media as we highlight women's impact.

We will be highlighting testimonials and encouraging conversations on Facebook and Instagram.

Tribute to Leadership

Celebrate trailblazing women and raise critical funds for YWCA Metropolitan Phoenix. Join us on March 30th from 4:30-7:30pm at The Croft Downtown for a celebratory networking soiree to recognize our four extraordinary honorees.
March 15 | 12pm: Challenging Systems: Women Who Own Homes

Society tends to dictate a certain chronology for life events. First comes marriage, then comes buying a home. Not every woman fits this ridged box of expectations. Despite what society views as norm, more and more single women are redefining those rules by buying homes on their own without a partner. Purchasing a home can be more realistic than you may think. Join YWCA as we show you how in reach owning your own home can be!
March 16 | 5:30pm: Renting 101

In Renting 101 we discuss how to avoid fraud, navigate lease agreements, your rights as a renter, and more. After attending Renting 101 you will have the knowledge and skills to confidently select a place to live and feel safe and secure about the process.
March 23 | 5:30pm: Know Your Worth

Women in the US earn on average 82 cents for every dollar that white men earn. Black women make 62 cents, Native women make 57 cents, and Latinas are the lowest at 54 cents. Join YWCA Metropolitan Phoenix in empowering women to close the wage gap! We offer an educational course geared towards providing women with the skills and knowledge to advocate for themselves and their families during wage negotiations.
April – Social Justice
Social Justice addresses historical trauma and structural racism, promotes transformational practices, addresses incarceration policies, pursues equitable distribution of resources, and resolves the social and physical differences adversely affecting socially disadvantaged groups. Social Justice has the following impacts on our health: physical and menatl, longevity, economic stability, and community well-being.
Stand Against Racism Challenge

The Stand Against Racism Challenge takes individuals on a journey to become more mindful and create a dedicated space for learning racial and social injustices. The challenge is 21 days long, includes daily learning activities, and starts April 4!
Stand Against Racism Summit – Thursday, April 28

Join us on April 28th from 9:00am – 1:00pm for the half-day Stand Against Racism Summit, We Can't Wait: Equity and Justice Now! We will explore instances of racism and build the muscle of being a better ally; to speak up, stand up, advocate when witnessing injustice.
Volunteer Appreciation Week – April 17-23

We couldn't do this work without the help of our passionate volunteers who are on this racial & gender justice journey with us!
May – Community Design & Parks + Recreation
Healthy Community Design includes building communities with mixed-use development, equitable transit-oriented development, and environments free of excessive noise. It also includes having access to cool and shaded spaces. Healthy Community Design has the following impacts on our health: economic stability, mental health, physical activity,
air quality, injury prevention, obesity, and heat-related illness.
Parks and Recreational Opportunities includes providing safe and affordable opportunities for physical activity and shared use opportunities between schools, libraries, and community centers. This element can impact our physical and mental health, prevent disease, and promote early brain development.
Women are stepping into the male-dominated field of parks and recreation.
Wellspring Park in Goodyear: Centering Parks in Community Revitalization Plan

With this Park, the City of Goodyear will create an urban center that puts community health and wellness in the forefront. Foremost, it is a vision for an inclusive park that equally serves those who are fit, those who want to get fit, individuals trying to regain their health, and those with challenges. The park will be built along the 2-mile stretch of Interstate 10 between Dysart Road and 145th Avenue

Our partner in justice, SRP provides free shade trees and workshops to customers!

In partnership with the nonprofit organization, Trees Matter, SRP provides free tree planting workshops and shade trees to SRP customers. Visit their website to register for the next workshop.

Systemic Racism in Recreation: Public Swimming Pools and Beaches

(Trigger Warning: Video contains imagery of violence) "Leisure is primarily a tool of capitalism… of white supremacy." In the days of segregation, Black Americans were required to use separate swimming waters, ones that were often faraway and unsafe. In the video below, watch how Civil Rights activists used "wade-in" demonstrations to demand access to leisure.
Heat-Related Deaths Increase in 2021

Heat-related deaths disproportionately affect Black & Native communities in Maricopa County, as well as older adults who are living alone. The pandemic has exacerbated the issue, forcing some cooling centers to close. Read the article to understand the importance of shade and mixed-use buildings as well as social programs and assistance that can save lives.

Arizona Coyotes Increase Youth Participation in Hockey

Lyndsey Fry, Valley of the Sun native and Olympic silver medalist, has helped grow interest in girls hockey in Arizona to a 53% increase in the last five years! Hockey may seem an unlikely sport in the desert, but the Arizona Coyotes have helped introduce it to the state, creating access where there was little.
June – Affordable Quality Housing
Affordable Quality Housing affects economic stability, air quality, disease prevention, access to quality food, and mental health. Communities built with Affordable Quality Housing in mind have affordable, socially-integrated, non-discriminatory housing options that are located near public-transportation and encourage social interaction.
Help Keep Older Adults Cool This Summer!

Seniors over 55 years of age are the fastest growing segment of the unsheltered population in Arizona and nationally. YWCA Metropolitan Phoenix Meals On Wheels drivers are trained to inquire and assess any needs of those who may be on the cusp of becoming unhoused, including those with limited income for utilities. Our Heat Relief bundles will help keep older adults cool this summer, especially in case of a power outage. Donate or support a senior with a bundle today!

Housing Policy and Discrimination in Arizona

#DYK Construction of the I-17 cut through South Phoenix and destroyed the neighborhoods of primarily Latino and Black residents? Redlining, lending practices, and steering also led to today's housing climate, often benefiting white homeowners.
Decades of racial discrimination in real estate, lending practices, and federal housing policy have made homeownership difficult to obtain for communities of color. While overt discrimination was outlawed by the Fair Housing Act, today's credit scoring system and lending practices continue as barriers to minority homeownership. Access to affordable housing is further compounded by racial disparities in education attainment, employment rates, and income.
June 15th is LGBTQIA+ Equal Pay Awareness Day

Check out the Human Rights Campaign 2021 LGBTQ+ Community Survey's results on the LGBTQ+ wage gap. Breakdowns of race and gender show that Black, Latine, and Native American worker who are transgender or non-binary are the most impacted by the LGBTQ+ wage gap.

Juneteenth. On June 19th, 1865, Texas became the final state to enforce the Emancipation Proclamation. Today, Juneteenth is the oldest nationally celebrated commemoration of the ending of slavery in the United States.
Phoenix's history of redlining has effects that can be literally felt to this day.
June 28 is the 53rd anniversary of the Stonewall Uprising.

Just 60 years ago, in the US, many states enforced laws prohibiting homosexuality in public, and private businesses and gay establishments were regularly raided and shut down. On June 28, 1969, a riot broke out when LGBTQ patrons at the Stonewall Inn took a stand. The Stonewall Uprising is regarded as the catalyst for the Gay Rights Movement.

As cost of housing in the valley increases, so does the population of people who are unhoused.

TRIGGER WARNING: This content mentions sexual abuse and assault. Let's look at the issue of homelessness in Phoenix and how local organizations are responding.

Partnering with Arizona Shelter Organizations.

Central Arizona Shelter Services: At CASS, we partner to provide free basic financial education courses year-round to shelter residents to support them in building new relationships with money and saving. Learn more about our financial literacy courses and partner with us.
A New Leaf: Together with A New Leaf, we provide volunteer tax preparation services, helping individuals get a larger return.

Here are two innovative ideas communities can provide shelter for the unhoused:
July – Transportation
Transportation Options can prevent obesity and disease and promote physical activity and mental health. This element promotes building communities that encourage walking, biking, and taking transit with safe, sustainable, affordable, and accessible options.
August – Community Safety
Community Safety impacts mental health, injury prevention, and physical activity. Safe Communities are socially connected and free of crime and violence. They are led by policies and practices that are inclusive of all members.
This month, after the violent mass shootings that have ravaged our country since May, we are choosing to focus on Gun Safety as a critical measure of Community Safety.
Finance Fundamentals, our basic financial education series, begins August 9 and takes place every Tuesday at 5pm.
The leading cause of death among kids in the US is guns. Motor vehicle accidents were once the leading cause of death for children in the US, but in 2020, gun violence succeeded it. There are also stark racial disparities. The firearm death rate for Black children was more than four times that of white children. White children were still more likely to be killed by motor vehicles than guns.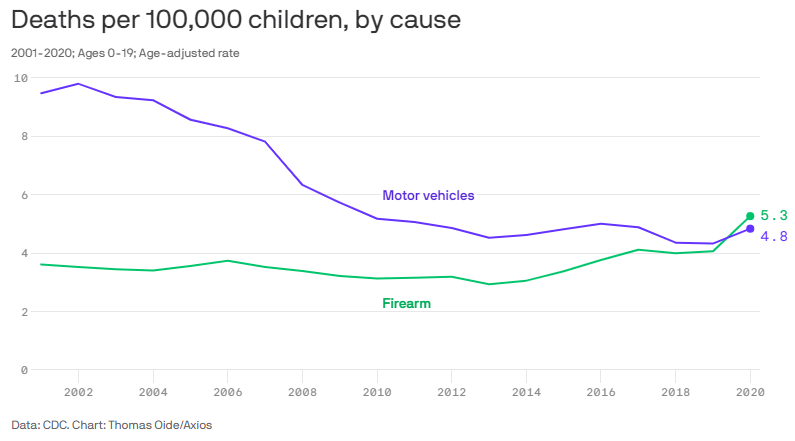 August 26th is Women's Equality Day! On this day in 1920, the U.S. Congress adopts the 19th Amendment, also known as the 'Susan B. Anthony Amendment,' giving women the right to vote. YWCA USA is releasing survey data for YWomenVote, which includes an in-depth analysis of the concerns and priorities of women of color, Millennial and Generation Z women, and women across party lines.
September – Environmental Quality
Environmental Quality is concerned with clean air and water quality, healthy soil, minimized toxins and waste, and affordable sustainable energy use. Environmental Quality can impact early development, disease prevention like asthma, and exposure to environmental contaminants.
City of Scottsdale offering Water Rebates to conserve our natural resource.
The City of Scottsdale is offering rebates to residents who opt in to WaterSense monitors or removing pools and grass. The city is committed to a permanent reduction in water usage and conserving its water supply. See the website to learn more and apply for a rebate.
Mom's Equal Pay Day is September 8.
It's time to close the gender pay gap for moms! On #MomsEqualPay Day – Thursday, September 8th, join the national social media storm at 11am PT to demand equal pay for moms in all occupations.

Before COVID-19, women in the U.S. spent 37% more time on care work than their male counterparts. Now, due to the pandemic, close to two-thirds of mothers report being very or somewhat worried about balancing work and caregiving compared to three in ten other women. The lack of high-quality affordable child care is a significant barrier to women re-entering the workforce and sustaining employment.

Mothers have had to bear the brunt of paid and unpaid labor – it's time to address child care, paid family and sick leave, job quality, and job loss where women are overrepresented.
Gamma Rho Omicron.
GRO believe that happiness can be obtained when you GRO and nurture plants while giving back to our communities. Our focus is supporting and empowering women to be healthy and environmentally conscious while being in a strong network of supporting women. Contact GRO to join!
September 10 | Community Leadership Program with All in Together
The CLP is an in-person, free, non-partisan, interactive half-day event where All In Together (AIT) and YWCA Metropolitan Phoenix partner with local organizations, and community leaders to provide civic engagement training and tools that help women develop civic leadership skills. The program includes a panel conversation with local leaders, a presentation on how to vote in Arizona in 2022, breakout sessions led by local nonprofits, interactive trainings, and tabling from local partners. Join us on Saturday to empower yourself to learn and vote for the issues you care about–issues like climate change and environmental justice.
Apply for Leaders for Change. Through our 9-month learning experience, emerging leaders will engage in workshops, leadership opportunities, and community projects that will leave them with the tools to recognize and challenge systemic racism practices and policies within their workplaces and communities. Applications are due September 14!
September 22 | Equity in STEAM 2.0 Storytelling Event
As the launch of the 2023 Equity in STEAM grant cycle, our storytelling event with STEAM professionals of color aims to help us recognize and create change in the sector. Join us as we hear stories from professionals in STEAM careers who are passionate like we are about eliminating the race and gender gap across the sector. Last year's grantees included two organizations that focused on environmental issues, check them out.
Equity in STEAM grant applications are now open! Apply today through November 30 or share with your networks of nonprofit organizations, teachers, and schools who are providing STEAM projects through a lens of racial and gender equity.
#HispanicHeritageMonth is September 15 through October 15. This year, ahead of the midterm elections, we will be sharing YWCA USA's national YWomenVote survey findings, particularly as they relate to the issues that Latinas find critical. Follow along on social media!
Communities of Color suffer disproportionately from exposure to air pollution in comparison to white Americans.
A new study shows how this disparity holds true. People of color are exposed to more pollution from every type of source, including industry, agriculture, all manner of vehicles, construction, residential sources and even emissions from restaurants. This holds true across the country, across state lines, income levels, and across rural-urban divide. These conditions are a result of years of systemic redlining, driving people of color to live in areas adjacent to industrial zones. Have a New York Times subscription? Read this article to learn more.
October – Access to Care
Access to Care includes affordable, accessible and high quality health care and coverage, culturally appropriate health professionals and practices, and access to mental health services. Access to Care can impact physical and mental health, disease prevention, and economic stability.
FREE Community Health Fair at YWCA! | October 14
Join us on Friday for free and low-cost vaccinations, mammograms, oral screenings, financial wellness and more. We are partnering with multiple health providers to reach Glendale residents. No appointments or insurance necessary!
Implicit Bias | October 6th | 12-1:30pm
In this workshop, we identify some of our own biases and develop ways of understanding where they came from and how they can be harmful.
Indigenous People's Day | October 10th
YWCA is adopting Indigenous People's Day as a recognized holiday, and so our programs and offices will be closed on Monday, October10th. On this day, we honor the original custodians of our land and recognize the contributions Native nations have made and the atrocities they have faced to help build our country. Here are some ways to celebrate.

We acknowledge that YWCA Metropolitan Phoenix is occupying the stolen land of the O'odham, Akimel O'odham, and Hohokam people.
Meet the individual who spearheaded an abortion fund for Native Americans. Indigenous Women Rising (IWR) was created by Rae Lorenzo after their nonviable pregnancy. In this article, read about how access to care is not equitable for all, particularly for Native women.
Week Without Violence | October 17-22
For more than 20 years, YWCA has set aside one week in October as a Week Without Violence—a week when YWCAs join as part of a global movement with World YWCA to end violence against women and girls. This year, we focus on how today's most divisive issues and headlines are impacting victims and survivors of gender-based violence. Join the movement!
Learn more about our Systems Change Initiative. We received federal grant money to address health disparities created or worsened by the COVID-19 pandemic. Our team will be looking to host focus groups with older adults and LGBTQ+ youth. If you have insight about mental health access in Northwest Maricopa County, let us know your thoughts.
The "insane roller coaster" that is Arizona's abortion laws. Access to abortion care has been a huge issue across the US all year. Read how the issue has been especially volatile in Arizona.
November – Affordable Food
Quality and Affordable Food is all about food security and variety that is nutritious, affordable, and accessible. It includes strengthening food systems and practicing sustainable agriculture. This element impacts nutrition, obesity, disease prevention, and mental health.
December – Social / Cultural Inclusion
Social and Cultural Cohesion is about building strong social communities, including: having robust social and civic engagement, supportive relationships, families, homes, pets and neighborhoods, opportunities for engagement with arts, music and culture, and community empowerment that can lead to systems change. This element impacts mental health and economic stability.
Let's Partner Together



We work with multiple agencies across the state of Arizona to make real, equitable change in our state and the country. Each month in 2022 is focused on a different Element of a Healthy Community (plus an additional element for women's empowerment), and each month will feature multiple events and initiatives centered around that month's theme.
If your team, agency, business, or organization does work centered around one of the Elements, please connect with Genevieve Villegas, Advancement Director, to set up a panel discussion, social media takeover, Live event, workshop, author a blog, or other project. We are thrilled and honored to work with so many change-making organizations.



Become a 2022 Sponsor
We have reimagined our sponsor and partner relationship from the typical event sponsorship to an annual sponsorship. Your investment in our mission and services will continue all year-long, allowing your business to reach a greater audience and provide an even greater impact.
If you are curious about these annual sponsorship opportunities, please contact Genevieve Villegas, Advancement Director, to set up a conversation to learn more.
Thank you to Our Sponsors: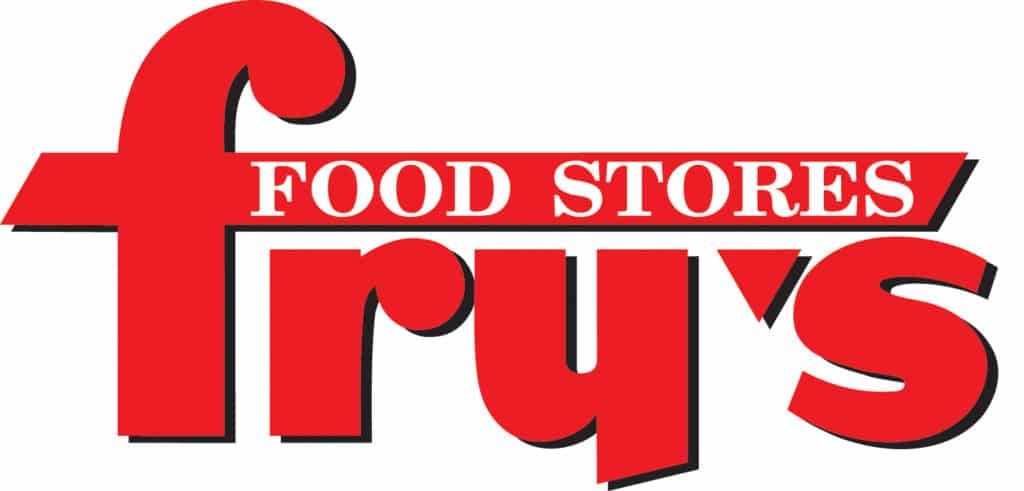 Thank you for giving a minimum donation of $110 in honor of our 110th Anniversary!
Carol Ackerson
Denise Blommel
Debbie Esparza
Mayra Flores
Bertha Esparza Gagliano
Diana Gregory
Mary Beth Gregory
Ramiah Jackson
Jill Mapstead
Sherry Mosely
Jill Murphy
Jennifer Sanchez
Catherine Scrivano
Laura Trujillo
Tanea Vigil
Alice Wells
Christine Wilkinson
Kara Williams
Roxanne Wingate
Sticker-of-the-Month
For our 110th Anniversary we are introducing YWCA "Sticker of the Month." A new sticker will be released each month that illustrates our mission and impact.
You can snag your limited-edition sticker by:
Making a $25 one-time donation.
Becoming a monthly donor at any level (you're guaranteed to receive every sticker).
BONUS: if you make a $110 donation (one-time or combined gifts) for our 110th Anniversary, you will be featured on the YWCA virtual donor wall.
Start your collection!
This Month's Sticker:
Previous Months' Stickers:
There are many ways to get involved at YWCA Metropolitan Phoenix
Your voice matters as we stand up for social justice, help families and strengthen communities. Whether you have time, talents, or treasures to contribute, learn how you can plug in to the YWCA community.