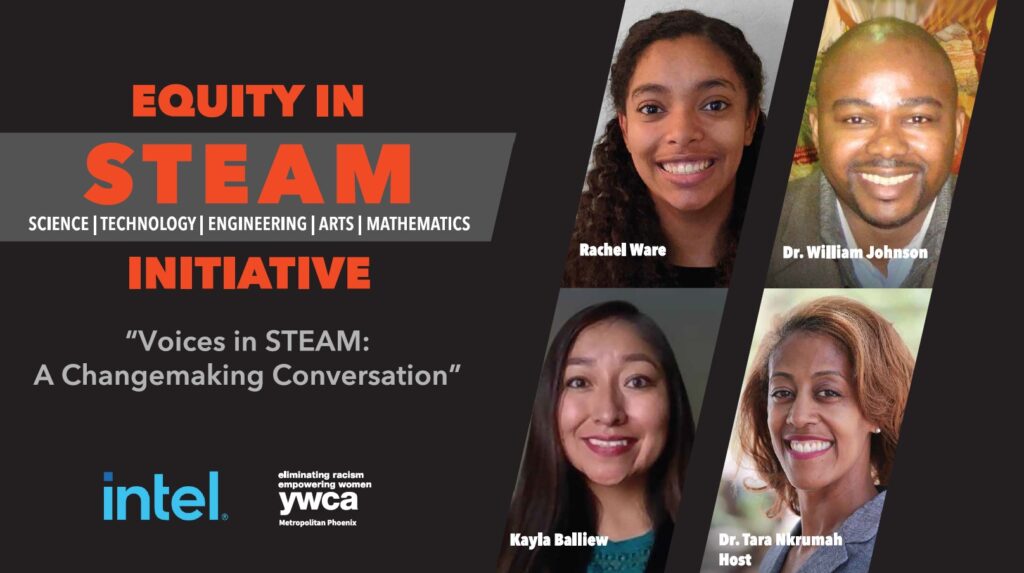 Join us for this free virtual event!
Voices in STEAM: A Changemaking Conversation
Thursday, September 23, 2021
12:00pm – 1:00pm
Our host, Dr. Tara Nkrumah, will be joined by Arizona STEAM (Science, Technology, Engineering, Arts, and Mathematics) professionals Kayla Balliew, Dr. William Johnson, and Rachel Ware. We are honored to hear their inspirational stories about their career journey, overcoming adversities, addressing racism, the impact of gender discrimination, and so much more!

This unique and powerful event will shine the light on career opportunities in STEAM and an even brighter light on the race and gender inequities in the STEAM sector.
You will also hear from our CEO Debbie Esparza, and Intel Community Affairs leader Jennifer Sanchez as we share an impactful announcement about our partnership to address STEAM equity in Arizona – you aren't going to want to miss it!
EVENT SPEAKERS