Calendar
We are honored to host several special events throughout the year. Additionally, we're proud to join community partners to raise awareness and bring consciousness to issues surrounding racial justice and gender equality.

Apr
22
Thu
Stand Against Racism

@ Virtual
Apr 22 @ 5:00 pm – 7:00 pm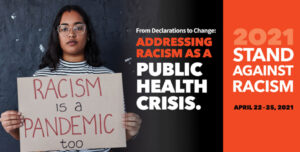 YWCA is on a mission to Stand Against Racism!
We take a Stand Against Racism every day by raising awareness about the impact of institutional and structural racism and by building community among those who work for racial justice.
Stand Against Racism provides the opportunity for communities across the United States to find an issue or cause that inspires them to take a #StandAgainstRacism and to unite their voices to educate, advocate, and promote racial justice.
Join us for this first part of our Stand Against Racism conversation. Collectively, using the Theatre of the Oppressed model, we will examine and bear witness to the impact of racism on our individual and community health. This conversation will be the inspiration for an original Theatre of the Oppressed performance which will be produced later in May.